Pop diva Teresa Teng lives on in Chinese hearts
(China Daily)
Updated: 2005-05-12 08:49
A decade has passed since Teresa Teng died from a severe asthma attack in the Thai city of Chiang Mai, but her songs and delicate appearance remain vivid for millions of Chinese around the world.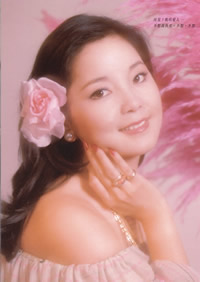 Teng died May 8 ten years ago at the age of 42. [baidu]

A rain-drenched Sunday in Hong Kong saw media and fans arranging various programmes and activities to mark the 10th anniversary of the songstress' untimely death. For three decades her popularity has remained undimmed among Chinese communities worldwide.

Hong Kong-based Phoenix Television, presented a five-episode television series which ran from Monday to Friday to mark Teng's death at the age of 42.

The series, screened by satellite globally, was called "When Will You Come Back Again (the name of one of her songs): In memory of the 10th anniversary of Teresa Teng's Death," and looked back over her life.

Anecdotes and recollections by her brothers, friends, teachers, musicians, fans and others, interspersed with a number of her most popular songs, were included.

One of her most popular, "Your Sweet Smiles," opened the series.

"Her songs express the most beautiful musical notes of Chinese culture," commented Tiger Hoo, who hosted the biopic.

Teng's songs are popular in many places and while filming in mainland cities, he often heard her refrain in public places. When Hoo went to Chiang Mai to cover her death in 1995 and asked "Who knows Teresa Teng?" at the airport, he got a chorus of replies. And very quickly he was driven to the Imperial Hotel where she had been staying.

Jia Ding, a well-known pop composer based in Beijing, described Teng's songs as the classics of the popular songs.

In Hong Kong, Teng's CDs are sold in nearly every music outlet, from chain stores to small roadside shops.

Madame Tussauds Hong Kong joined with the Teresa Teng Foundation to put on a mini-exhibition called "Thinking of our dear Teresa," which will run until July 31.

In addition to a waxwork model of the singer, the mini-exhibition features the 1985 NHK concert video, Teng's four stage costumes and the five trophies she received in Japan between 1974 and 1988, eight photographs from her private collections.

Tussauds' Kelly Mak said: "We would like to provide an opportunity for people who love Teresa to honour and capture once again her sweet voice and beautiful on-sage appearance."

Memorial concert

Hong Kong musicians plan to stage a musical in June.

Cao Zhong, an anchorwoman from TVB, and who resembles Teng, will perform one of her songs in the musical.

At the end of April the Ming Pao Publishing House and Teresa Teng Foundation jointly published her biography, which includes nearly 100 photos and a 10-CD set of her songs.

The Hong Kong Post, in co-operation with the publishing house, also issued a set of stamps in Teng's memory.

A cross-island tour for around 400 fans was organized, which included a visit to her former home and tomb.

And in Chiang Mai, Teng's CDs have been selling well in the city's biggest music store in the mountain city in northern Thailand.

Road to stardom

Born on January 29, 1953 into an ordinary family in Taiwan Province, Teng was the only girl among the five children in the family. She had shown her talent for singing when she was in the primary school.

"My sister loved singing when she was only 5 or 6 years old," recalled Teng Chang-hsi, the younger brother of Teng in an interview with China News Service. When she was only 10 years old, Teng began to tour and perform with local bands. It was in the same year she won the first prize at a folk singing contest held by the local radio station with her song "Visiting Yingtai."

Three years later she took part in a vocal training course provided by a record company and again was awarded in a singing contest. In the second year of middle school she was forced to drop out education. "My sister had to choose whether she would continue her studies or leave them to sing," said the brother, adding that the school did not allow her to perform. It was also impossible for her to cope with her schooling and sing professionally at the same time. Aged 14, she made a decisive career choice and became a fulltime singer.

In 1968, she became famous after giving a performance at a regular music programme on TV, which was believed to be the only important music programme at that time in Taiwan. Success followed. She brought out eight records within two years, and appeared at shows everywhere. She was in great demand.

Well-known in Taiwan and Hong Kong and other parts of South East Asia, she set her sights farther afield and in 1973 headed for Japan.

In 1985 she won the prize for "Best New Singing Star" in Japan's widely known Red and White Song Competition, and later won the Golden Bell Award in Taiwan, among others.

In Taiwan, she was best known for singing folk and romantic songs, characterized by soft vocal inflections. In Japan, she began to do more demanding ballads and her singing technique matured.

She sang in Mandarin, Cantonese, Japanese and English. She had performed in the United States.

She had the look of the girl-next-door - her beauty epitomizing the Chinese ideal of a genteel and sweet young girl. She liked dressing in purple, pink and white.

Teresa Teng longed to have a family but failed. Her love stories have been widely known in the public. When she died in Thailand she was on vacation with her French boyfriend.

During her life time, Teng recorded over 100 CDs, each of which was a million-plus seller.

For millions, her voice sings on.

| | |
| --- | --- |
| | |
| Cat sad at losing company | |

| | |
| --- | --- |
| | |
| Gem and jewelry show opens in Shanghai | |

| | |
| --- | --- |
| | |
| Miss Universe 2005 contest to open | |
Today's Top News
Top Life News

Hu: Peace, stability common aspirations




Pressure on yuan revaluation won't work




China seeks resolution to textile issue




China Southern to buy 45 Boeings at US$3bln




White House, Capitol emptied in plane scare




Kissinger: US supports cross-Straits dialogue