China Southern to buy 45 Boeings at US$3bln
(Agencies)
Updated: 2005-05-12 08:38
China Southern Airlines and its unit Xiamen Airlines said they have agreed to buy 45 Boeing planes in a deal worth up to US$3 billion, as demand for air travel in China booms.
China Southern, one of the country's largest carriers by fleet size, would buy 12 of Boeing's 737-700 aircraft and 33 of its 737-800s, it said in a statement in the Shanghai Securities News.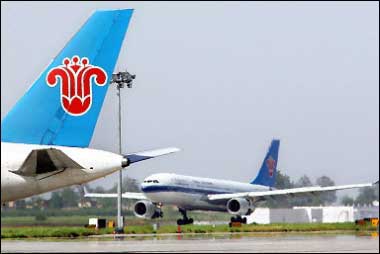 A China Southern Airlines plane lands at an airport in Xi'an in northwest China's Shaanxi Province in this undated file photo. China Southern Airlines and Xiamen Airlines said they have agreed to buy 45 Boeing planes in a deal worth up to 3 billion dollars.[AFP]

Fifteen of the 737-800s will be bought by China Southern's subsidiary, Xiamen Airlines, with the planes to be delivered between 2006 and 2008.

"Board members and the China Southern Group have approved this purchase," the Guangzhou-based airline said Wednesday.

"We will discuss loan arrangements with commercial banks but up to now we haven't signed any loan contracts."

It said the purchase of the short-haul aircraft would increase China Southern's load capacity by 15 percent. The airline carried 3.63 million passengers in April, up 43.8 percent year-on-year.

"This purchase is in the interests of the company and our shareholders," it said.

The list price for a 737-700 was given as 50.5-59 million dollars, with the 737-800 running at 61.5-69.5 million dollars.

China is expected to sharply increase aircraft orders to cope with anticipated booming tourist traffic in the lead-up to the 2008 Olympic Games in Beijing.

Last month Airbus concluded a deal with China Eastern Airlines and Shenzhen Airlines for 10 A319/A320 planes, while China Southern completed an agreement on its purchase of five A380 superjumbos.

US-based Boeing is locked in a dogfight with European rival Airbus for sales of their new jets in China, which is expected to build up a fleet of 2,800 craft in the next two decades and become the world's second-largest after the United States.

Analysts said the see-saw announcements underscore the high-flying stakes between the two companies as they maneuver for orders in China where annual economic growth of more than nine percent has ramped up demand for air travel.

"You're always going to have China playing the two off each other," said Chris Sendor, an airline analyst at DBS Securities in Singapore.

"It's just how the game is played," said Sendor, adding that Airbus would likely counter with its own China order in the near-term.

Although Boeing currently has a 62 percent market share in China, it has lost ground in recent times to Airbus, which aims to lift its share of jets in the Chinese fleet to 50 percent from about 25 percent in the years ahead.

"Boeing had been dominating the Chinese air market, but last year Airbus started to play a bigger role and won a lot more orders than Boeing," said Huaxia Securities aviation analyst Li Lei.

Li said this was in part due to the fact that in China all plane purchases require Beijing's stamp of approval and the political trade winds have recently blown in the European Union's favour.

In addition, with the development of the superjumbo Airbus A380, the world's largest commercial airliner which made its maiden flight last month, the European company could be poised to dominate long distance travel.

That said, Boeing has a better offering of short-haul planes, said Sendor.





Today's Top News
Top China News

Parties pledge to combat 'Taiwan independence'




China seeks resolution to textile issue




Kissinger: US supports cross-Straits dialogue




China Southern to buy 45 Boeings at US$3bln




Efforts to control housing prices continue




Wronged man demands compensation