Wronged man demands compensation
By Liu Li (China Daily)
Updated: 2005-05-12 06:31
She Xianglin, who was freed last month after being wrongly jailed for 11 years, yesterday demanded the State compensate him 4.37 million yuan (US$528,000).
"The compensation is based on She's mental injuries, restrictions of his freedom and infringements on his rights of life and health," She's lawyer Zhou Feng told China Daily yesterday.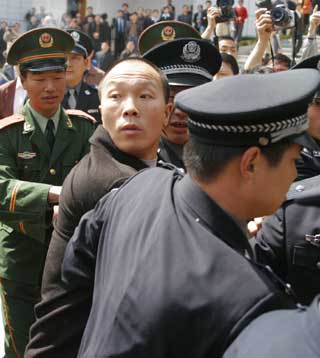 She Xianglin is declared innocent and released during a retrial by Jingshan people's court in Hubei Province April 13, 2005. He was wrongly sentenced and has served 11 years in prison for allegedly murduring his wife who is proven to be alive and recently returned to see She Xianglin. According to Chinese law, She is entitled to seek state compensation and those persons held responsible for the She case would be investigated. [newsphoto]

She, a 39-year-old man from Central China's Hubei Province, was locked up over a decade ago after being convicted of killing his wife Zhang Zaiyu who disappeared in 1994 in Jingshan County of the province.
After a female body was found near where Zhang went missing three months later, local police arrested She in 1994 for his wife's murder. Jingshan County People's Court gave him 15 years in 1998.
But Zhang was not dead, and reappeared in March this year proving her long-suffering husband's innocence.
She claimed that police tortured him into a false confession.
In the court action launched yesterday, She called for the authorities who wronged him 11 years ago to be held legally accountable.
Besides the local police that have been accused by She of extracting a confession through torture in the four years after his arrest, the county court that sent him to prison in 1998 and the public prosecutor are also believed to have played a hand in his unlawful imprisonment.
Furthermore, the finger was firmly pointed at the local Party committee's political and legislative affairs commission for interfering in the trial seven years ago and deciding on a 15-year sentence even before the court case had concluded. She yesterday formally requested a public apology from the relevant judicial departments.
The compensation action was received by Jingmen Municipal Intermediate People's Court yesterday, She's lawyer Zhou told China Daily.
The court will file the case in a week in accordance with Chinese law.
According to the State Compen-sation Law, the indemnity to citizens whose freedom has been violated is calculated according to average salary. This puts the amount owed to She at 256,000 yuan (US$31,000) for his 11 years in jail.
However, legal experts like Ma Huaide from the Beijing-based China University of Politics and Law have appealed for legislation concerning compensation for citizens' mental injuries.
She's lawyer Zhou also expressed the hope that his client's appeal would help promote revision of the law.
Also yesterday, She's elder brother She Suolin demanded compensation of 200,000 yuan (US$24,200) from the Jingshan County Bureau of Public Security for mental injuries and a loss of work. He spent considerable time appealing the original decision to lock up his brother after 1994.
She Suolin was arrested in 1995 by the local police of Jingshan County and was jailed for 41 days.
Nie Maiqing and Ni Xinhai, both jailed for providing evidence that She's wife was alive, are also demanding compensation from the Jingshan County Bureau of Public Security.
Hubei Provincial High People's Court, from last month, began sending people to grass-roots courts to supervise trials and judgments to avoid any further cases like She's.
(China Daily 05/12/2005 page2)
Today's Top News
Top China News

Parties pledge to combat 'Taiwan independence'




China seeks resolution to textile issue




China Southern to buy 45 Boeings at US$3bln




Bank: No yuan change, unpeg report wrong




White House, Capitol emptied in plane scare




Kissinger: US supports cross-Straits dialogue