DPRK says completes nuclear fuel extraction
(Agencies)
Updated: 2005-05-11 22:42
SEOUL - North Korea sharply raised the stakes in its nuclear standoff with regional powers on Wednesday, announcing it had finished extracting nuclear fuel rods at its Yongbyon plant and taken steps to expand its atomic arsenal.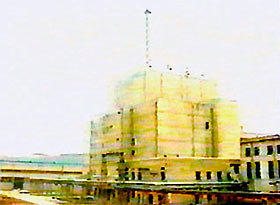 The Yongbyon-1 nuclear power plant is shown in North Korea in this International Atomic Energy Agency file photo from May, 1992. North Korea has completed extracting nuclear fuel rods at its Yongbyon plant, a foreign ministry spokesman said in a report on its official KCNA news agency on May 11, 2005. [Reuters]

It was the first time North Korea had effectively confirmed it had been working on its reactor at the Yongbyon nuclear complex north of the capital Pyongyang. Regional powers, notably South Korea, voiced concern and urged it to return to talks designed to end its nuclear ambitions.

The North said in February it was pulling out of the six-country talks and confirmed for the first time it had nuclear weapons. It has since said it would enhance its deterrent force, and Washington fears Pyongyang could be preparing a nuclear test.

"The relevant field of the DPRK has successfully finished the unloading of 8,000 spent fuel rods from the 5 mw (megawatt) pilot nuclear plant in the shortest period recently," the North's Foreign Ministry spokesman said in a English-language version carried by the official KCNA news agency.

DPRK is short for the state's official name, the Democratic People's Republic of Korea.

Officials in Seoul said in April the North had suspended the operation of its reactor in Yongbyon. Analysts said this would allow it to extract spent fuel rods, which could be turned into weapons-grade plutonium. Outside experts say the North could already have up to eight nuclear weapons.

"The DPRK had already declared in Dec. 2002 that it would re-operate the above-said plant and resume the construction of two other nuclear plants," the North's spokesman added.

The North did not say whether reprocessing of fuel rods -- necessary to make material for nuclear weapons -- had started.

South Korean officials have said they are more concerned about the possibility of reprocessing than a nuclear test.

SEOUL VERY CONCERNED

Pyongyang and Washington signed the Agreed Framework agreement in 1994 in Geneva to mothball the North's plutonium-based nuclear program in return for energy aid, including two proliferation-proof nuclear reactors.

The agreement was effectively broken in late 2002, igniting a new crisis. The United States accused the North of running a covert uranium-based program, a charge Pyongyang denies.

The North's spokesman said it had resumed operations at the plants frozen under the deal because "the Bush Administration theatened the DPRK with nuclear weapons in violation of the AF."

"Accordingly, the DPRK keeps taking necessary measures to bolster its nuclear arsenal for the defensive purpose of coping with the prevailing situation, with a main emphasis on developing the self-reliant nuclear power industry," the spokesman said.

He added that construction of two other nuclear power plants had also resumed, one with a capacity of 50 megawatts and another with a 200-megawatt capacity.

Three rounds of talks involving the two Koreas, the United States, Japan, Russia and China aimed at dismantling the impoverished North's nuclear programs made little progress, and the process has stalled since the last meeting in June 2004.

South Korea said on Wednesday it was very concerned about the North's announcement and urged Pyongyang to return to talks..

"Such a move by North Korea runs counter to moves to make the Korean peninsula free of nuclear weapons, the government is expressing deep concerns," the Seoul Foreign Ministry said in a statement on its Web site.

China, the North's main ally which has come under pressure from Washington to get the North back to talks, urged restraint.

"We ask all the parties to exercise restraint and we hope that they will do nothing that is detrimental to the resumption of the six-party talks," Foreign Ministry spokesman Liu Jianchao told Reuters.

NEGOTIATING PLOY?

Japanese Prime Minister Junichiro Koizumi also urged the North to resume talks, but suggested Pyongyang's announcement might be a bargaining ploy.

"These are strategic comments. We have to work on North Korea so they will respond to the six-way talks and realize that abandoning their nuclear programs is very much to their benefit," he told reporters. A Foreign Ministry official in Tokyo described the North's announcement as brinkmanship.

Analysts say the North often uses shock negotiating tactics in its international relations. Pyongyang's latest announcement comes after it appeared to hint earlier this week it might be willing to return to the negotiating table.

Media reports that U.S. officials fear the North may be preparing a nuclear test have added fresh urgency to efforts to restart those negotiations, which Pyongyang has boycotted because of what it says is Washington's hostile policy.

On Sunday, a North Korean spokesman appeared to soften Pyongyang's rejection of talks outright by saying it wanted to meet U.S. officials to confirm reports that Washington was ready to recognize the North as a sovereign state and to hold bilateral talks within the six-party process.




Today's Top News
Top World News

Parties pledge to combat 'Taiwan independence'




China seeks resolution to textile issue




Kissinger: US supports cross-Straits dialogue




China Southern to buy 45 Boeings at US$3bln




Efforts to control housing prices continue




Wronged man demands compensation