Ambassador: Japan, China need to work together
(Agencies)
Updated: 2005-05-11 17:03
TOKYO - Japan and China should concentrate on deepening their economic ties and working together to resolve the North Korean nuclear issue rather than focus on disputes that have recently soured relations, China's ambassador to Japan said.
But Tokyo also needs to face up to its wartime past and reaffirm its policy of not allowing Taiwan independence in order to further develop ties with Beijing, Ambassador Wang Yi said.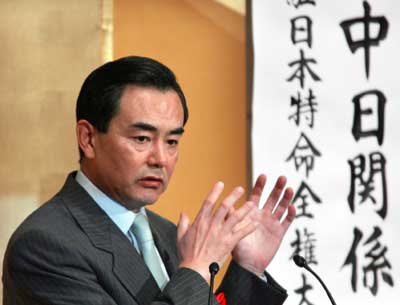 China's Ambassador to Japan Wang Yi speaks to businessmen, academics and journalists in Tokyo May 11, 2005. Japan and China have far more common interests than disputes, Wang said on Wednesday, adding that he hoped such views would become the consensus in both countries. But Wang said Tokyo must face up to its wartime past and also reaffirm its policy of not allowing Taiwan independence in order to further develop its ties with Beijing. Characters at rear read "Relationship between China and Japan. (Chinese) Ambassador to Japan". [Reuters]

"At the moment the differences stand out, but if you give it some good thought then you see that the mutual interests outweigh them," Wang, speaking in fluent Japanese, told a gathering of business leaders, academics and reporters on Wednesday.

Wang said cooperation between Tokyo and Beijing was also needed to resolve the "the situation on the Korean peninsula."

"Aside from South Korea, the solution of the nuclear issue rests largely on Japan and China," he said.

Wang said economic ties had become deeper than ever, noting that China became Japan's largest trading partner last year.

Relations between China and Japan deteriorated to their worst state in three decades last month after the Japanese government approved a textbook that distorts history, consequently sparking anti-Japan demonstrations in China. The protesters accused Japan of failing to properly own up to its wartime history.

Wang said Japan had pledged in agreements and treaties to reflect on its wartime actions, acknowledging the suffering it had inflicted on the Chinese people.

Japan had also recognized in the documents that Taiwan was an inseparable part of China, he said.

"The problem is, are these principles and promises being kept?" he added.

Relations between Japan and China, where memories of Japan's 1931-45 invasion and occupation run deep, chilled after Prime Minister Junichiro Koizumi took office in 2001 and began annual visits to Yasukuni Shrine, where convicted war criminals are honored along with Japan's 2.5 million war dead.

Koizumi has repeatedly dodged questions about whether he plans to go to Yasukuni this year. He last visited in January 2004.





Today's Top News
Top China News

Parties pledge to combat 'Taiwan independence'




China seeks resolution to textile issue




Kissinger: US supports cross-Straits dialogue




China Southern to buy 45 Boeings at US$3bln




Efforts to control housing prices continue




Wronged man demands compensation