'Taiwan independence' a dead alley: Soong
(Xinhua)
Updated: 2005-05-11 10:56
Visiting Chairman of People First Party James CY Soong reiterated his persistent stance in Beijing Wednesday that his party is resolutely opposed to forces for "Taiwan independence," which is a dead alley for peace and stability across the Taiwan Straits.
Soong made the remark when addressing the faculty of Beijing-based Tsinghua University televised live.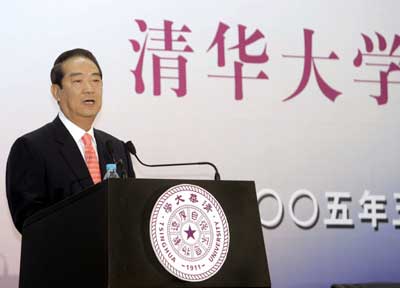 James Soong, chairman of the People First Party in Taiwan, delivers a speech at Tsinghua University in Beijing May 11, 2005. He is scheduled to have a historic meeting with Hu Jintao, general secretary of the CPC central committee on Thursday. [Xinhua]

Taiwan consciousness not "Taiwan independence"
Soong called on people on the mainland not to take the "Taiwan consciousness" upheld by the Taiwan people the same as "Taiwan independence."
The "Taiwan consciousness" formed in history is a mentality of recognizing the people and land in Taiwan whereas the effort for "Taiwan independence" is only an attempt to separate Taiwan from China, Soong said.
The fact that the "Taiwan consciousness" was once manipulated by "Taiwan independence" forces only proves that such efforts to political control garbled the real aspirations of the Taiwan people.
Soong slashed the efforts of a small handful of secessionists to take themselves as Japanese rather than Taiwanese as "casting aside both roots and essence."
Chinese people can handle own problems peacefully
Soong said there is nobody in the world who can hold back the Chinese people from resolving their own problems "peacefully."
Soong said the historical and realistic factors were so complicated and difficult to unravel that they constituted a challenge to the wisdom of all Chinese for "handling our own problems by ourselves."
"History should be taken as a mirror to prevent previous wrongdoing from happening again," said the PFP chairman.
He warned the mentality of taking history as a "rope" would exert a negative impact on taking an rational mindset in resolvingproblems.
Soong said historic experience shows that the real reconciliation is the "start of a nation's rejuvenation" rather than the result of "compromise of principle."
Rise of China inevitable trend
The rise of the Chinese nation is an inevitable trend, visiting chairman James CY Soong of the People First Party (PFP) in Taiwan said in his speech.
Citing May 9 issue of US magazine Newsweek's cover story titled "China's Century", Soong said that the mainland has achieved "stunning achievements" since its open-up and reforms drive in late 1970s.
For instance, he said, more than 300 million people on the mainland have shaken off poverty over the past 25 years. Wal-Mart,a supermarket giant who contributed more than 2 percent of the United State's GDP last year, has 5,000 Chinese suppliers out of its 6,000-plus suppliers.
Chinese has replaced French to become the most favorite foreign language Americans like to learn, he noted.
As for the filming industry, once regarded as a symbol of American culture, movie directors like Zhang Yimou from the mainland and An Lee from Taiwan have became populous names worldwide.
"All of these facts and data have proven that China is rising rapidly," he said.
Mainland, Taiwan need common development, not warfare
Concerted efforts should be made tobuild up a common market for common prosperity across the Taiwan Straits, said Soong.
"Several days ago when I visited Nanjing, an old local man came to me after passing the tight police defense, saying that 'Mr. Soong, we need no warfare'. That demonstrated people across the Straits voiced the common aspiration for peace," said Soong in his speech.
Efforts should be made for making mainland and Taiwan "workshopof the world and market for the prosperity of our world," he said.
A stable, open, progressive and peaceful China is in the commoninterest of the world, he stressed.


Today's Top News
Top China News

Zoellick: Policy to contain China's influence 'foolish'




'Taiwan independence' a dead alley: Soong




Agents check report of grenade near Bush




China welcomes direct US-DPRK contacts




China won't be pushed into yuan reform




Nobel laureates to discuss development