Putin lambasts Baltics, sours Russia-EU summit
(Agencies)
Updated: 2005-05-11 10:41
Russian President Vladimir Putin angrily accused Baltic states on Tuesday of "political demagoguery" in churning up historic resentments toward Moscow, souring a summit designed to cement relations between the EU and Russia.
Putin was speaking minutes after Russia signed an agreement with the European Union to strengthen ties that have frayed since 2004 when accession of new states including three ex-Soviet Baltic republics brought the bloc to Russian borders.
"We are ready to sign an agreement on borders ... with Estonia and Latvia. We hope they will not be accompanied by idiotic -- in terms of their content -- demands of a territorial nature," said Putin.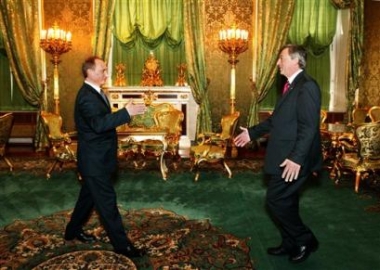 Russian President Vladimir Putin, left, welcomes Luxembourg Prime Minister Jean-Claude Juncker, whose country holds the EU's rotating presidency, at the Russia-EU Summit in the Moscow Kremlin, Tuesday, May 10, 2005. Putin and European Union leaders on Tuesday unveiled a wide-ranging partnership accord that aims to deepen ties between Moscow and the 25-member bloc, especially in the economic sphere. [AP]

Putin made his comments in the wake of President Bush's four-day visit to Europe.

Bush expressed open sympathy with the Baltic states over their complaints about relations with Moscow but declined to back their pleas for an apology from Russia for what they call the Soviet occupation following the end of World War II.

In their meeting on Sunday, Bush urged Putin to respect budding democracies on his border and to push ahead with internal reform -- a reference to what some U.S. officials said is Russia's backsliding on democracy.

Russia has yet to sign a border agreement with Baltic neighbors Latvia and Estonia, a move that has been repeatedly delayed by poor ties between Moscow and the Baltics.

Putin called a Latvian territorial claim dating back to 1945 "total nonsense."

"It does not fit with the spirit of creating a common European home," said Putin in an angry outburst that appeared to take aback EU officials present at a Kremlin news conference held after the signing of the EU-Russian agreement.

"Let's start dividing up everything in Europe? No, no. I don't think so. We appeal to Baltic politicians to stop practising political demagoguery and start constructive work. Russia is ready for such work," said Putin.

His remarks were a reminder that resentments among Baltic countries - Estonia, Latvia and Lithuania - have the potential to unsettle relations between Moscow and the EU.

Earlier, Putin had hailed the agreement with the EU as a big step toward creating a Europe free of barriers.

"The process of forming a great Europe following the fall of the Berlin wall continues," said Putin, "We want a Europe without dividing lines."

FRIEND OF EUROPE

Prime Minister Jean-Claude Juncker of Luxembourg, which holds the EU presidency, told the news conference: "We leave with conviction firm that ... President Putin is a friend of Europe. It is not necessary to agree on everything but to know that we work on a basis of common conviction."

He added: "It's not easy to negotiate with Vladimir Putin. He has the conception that he must defend the interests of his country." Juncker said history appeared to weigh heavily in Russia's relations with the Baltic states. The two sides agreed to hold consultations on easing visa regulations and eventually allowing visa-free travel, said a Russian Foreign Ministry statement.

Agreement came a day after world leaders in Moscow marked the 60th anniversary of the end of World War II in Europe.

Putin pointedly criticized Estonia at the news conference for boycotting the celebrations.

The EU is Moscow's largest trading partner with over half of Russia's exports going to the bloc. Russia supplies the EU with around one fifth of its oil and gas needs.

Moscow clearly hopes the deal, of strong symbolic importance, will help strengthen foreign investor confidence.

The EU also threw its support behind Russia's bid to join the World trade Organization (WTO). Russia is the largest trading nation which is still outside the WTO.

EU Trade Commissioner Peter Mandelson said on the eve of the summit that talks were "creating a possibility of final entry in early 2006." "Russia needs to take advantage of a window between now and the summer to get the accession tied down."




Today's Top News
Top World News

Zoellick: Policy to contain China's influence 'foolish'




Soong in Beijing for historic meeting




Agents check report of grenade near Bush




China welcomes direct US-DPRK contacts




China won't be pushed into yuan reform




Nobel laureates to discuss development