China won't be pushed into yuan reform
(Agencies)
Updated: 2005-05-11 09:58
China is technically ready for currency reform, but won't be pushed into it by the United States, deputy central bank governor Wu Xiaoling said in an interview with Japan's Nihon Keizai newspaper published on Wednesday.
The People's Bank of China's Wu said China wanted to be allowed to choose when to loosen the peg on the yuan -- a move the United States is pressuring Beijing to make to slow down the flood of cheap Chinese imports.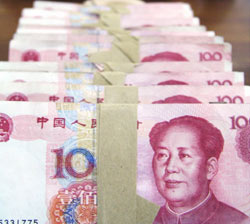 RMB banknote

The paper suggested Wu's comments meant the Chinese central bank had already considered possible ways in which it could expand the yuan's narrow exchange band against the dollar and also the impact of a stronger currency on the Chinese economy.

Wu criticised the United States for pressuring China on the currency issue, in particular by trying to pass a bill that would impose tariffs on Chinese imports unless the currency reforms were carried out, the paper said.

"If the United States had not created this environment, the reforms would probably have happened more quickly than people predicted," Wu told the paper.

Any increased pressure from Washington would only make the reforms more difficult, the Nikkei quoted Wu as saying.




Today's Top News
Top China News

Zoellick: Policy to contain China's influence 'foolish'




Soong in Beijing for historic meeting




Agents check report of grenade near Bush




China welcomes direct US-DPRK contacts




China won't be pushed into yuan reform




Nobel laureates to discuss development