Agents check report of grenade near Bush
(Agencies)
Updated: 2005-05-11 08:34
WASHINGTON - The Secret Service was investigating a report Tuesday that a hand grenade was thrown at the stage during President Bush's speech in the former Soviet republic of Georgia.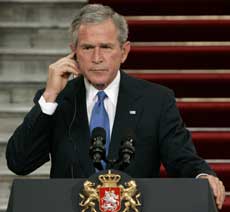 U.S. President George W. Bush listens to a question from a journalist during a joint news conference with Georgian President Mikhail Saakashvili at the Georgian Parliament in Tbilisi, Georgia on May 10, 2005. [Reuters]

After Bush left Georgia on Tuesday, the Secret Service was informed by Georgian authorities of a report that a device, possibly a hand grenade, had been thrown within 100 feet of the stage during Bush's speech, hit someone in the crowd and fell to the ground, Secret Service spokesman Jonathan Cherry said.

According to the report, a Georgian security officer picked up the device and removed it from the area. The Secret Service had not seen the device as of Tuesday evening, Cherry said. It has agents in Tbilisi working with the FBI, State Department and Georgian authorities to investigate the report.

Georgian Interior Ministry spokesman Guram Donadze at first said no grenade was thrown close to Bush, calling it a lie, but later said the secretary of Georgia's National Security Council, Gela Bezhuashvili, would make an announcement about the reports Wednesday.

Officials from the National Security Council and President Mikhail Saakashvili's office could not be reached for comment.

The White House referred questions to the Secret Service.

Cherry said he couldn't characterize the source of the report that a device had been thrown.

Bush was returning to the United States late Tuesday after a four-country trip that also included stops in Russia, Latvia and the Netherlands. He was the first American president to visit Georgia.




Today's Top News
Top World News

Zoellick: Policy to contain China's influence 'foolish'




Soong in Beijing for historic meeting




Agents check report of grenade near Bush




China welcomes direct US-DPRK contacts




Nobel laureates to discuss development




Firms eye 2008 Olympic security budget