Policy to contain China's influence 'foolish'
(Agencies)
Updated: 2005-05-11 07:39
SINGAPORE - The United States is intent on deepening economic and political ties with Southeast Asia but not by trying to contain China's rising influence in the region, US Deputy Secretary of State Robert Zoellick said.
On the last leg of a six-nation tour of Southeast Asia, Zoellick said he had also been reassured the 10-member Association of Southeast Asian Nations (ASEAN) was committed to stronger economic ties with the United States.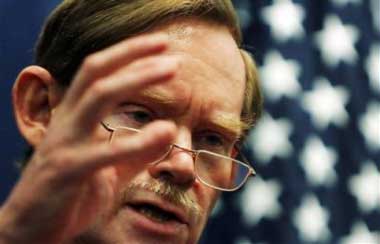 U.S. Deputy Secretary of State Robert Zoellick speaks at a news conference summing up his week long trip to Southeast Asian nations Tuesday May 10, 2005 in Singapore. Zoellick said any policy to contain China's influence would be foolish and ineffective. [AP]

Aside from Singapore, Zoellick, who is the most senior US official to visit Southeast Asia during US President George W. Bush's second term, visited Thailand, Vietnam, the Philippines, Indonesia and Malaysia.

"It would be very useful at the start of the president's second term to have a chance to consult with our partners and friends in the region," Zoellick told reporters here in explaining the purpose of his 10-day trip.

"And I think if there is any core theme, it's that we believe that it is in the broader Asian interest to have a strong, healthy, dynamic ASEAN.

"And in so far as we can help and support that process, we are looking for ways to try to do so and my visit is one small contribution."

Zoellick said discussions held with leaders during his trip showed Southeast Asia wanted to continue to have strong economic ties with the United States, which remains the region's major export destination.

"I think there is a sense that I received from the countries that I visited there is a very strong interest in US economic ties for many of these countries," Zoellick said.

"The countries I visited represent over 500 million people... so it's a core part of our global outlook."

Zoellick emphasised ASEAN was the fifth largest trading partner for the United States, with trade between the two worth about 136 billion US dollars.

However he also said the United States had no intention of trying to contain China's growing presence in Southeast Asia.

"From the US perspective, the key message is that we believe that we should have our own activist engagement with Southeast Asia and that a policy to try to limit or restrict China would be both foolish and ineffective," he said.

China and ASEAN last year signed a deal to liberalise trade barriers and pave the way for a more comprehensive accord planned for 2010 that could see the creation of the world's largest free trade zone.

Zoellick's visit also had strong political spin-offs, with the diplomat announcing while in Vietnam that Vietnamese Prime Minister Phan Van Khai had been invited to meet Bush in Washington on June 21.

The visit will be the first by a Vietnamese leader since the end of the Vietnam War 30 years ago.

It was also announced that Singapore Prime Minister Lee Hsien Loong will meet with Bush in July.

Zoellick referred on Tuesday to maritime and counter-terrorism security issues that were discussed during his visit to the six nations, but did not broaden his comments from those given earlier in the trip.

In Malaysia, Zoellick offered US help to ensure security in the pirate-plagued Malacca Strait and oversaw the renewal of a 10-year-old defence pact between the two nations.




Today's Top News
Top World News

Parties pledge to combat 'Taiwan independence'




Policy to contain China's influence 'foolish'




'Taiwan independence' a dead alley: Soong




Agents check report of grenade near Bush




China won't be pushed into yuan reform




DPRK says completes nuclear fuel extraction