Nobel laureates to discuss development
By Liu Li (China Daily)
Updated: 2005-05-10 22:08
The largest gathering in Asia of Nobel Laureates winners are to attend a forum in China later this month.
Among the elite gathering will be Edward Prescott, who won the prize last year.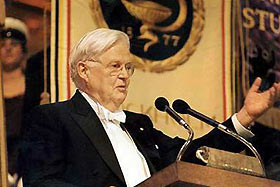 Robert A. Mundell. [iff.gov.cn/file]

Previous winners over the last 12 years will also attend. Robert A. Mundell, John F. Nash, Robert W. Fogel, Joseph E. Stiglitz, James A. Mirrlees, Vernon L. Smith and Clive W. J. Granger will appear at the forum, which each will discuss the harmony and development of mankind.

"This will be the first time that as many as eight Nobel laureates -- with their work spanning various specialities in economics -- have been invited by an Asian country for an economic policy forum," said Beijing Vice-Mayor Zhang Mao yesterday.

The May 30-June 1 Nobel Laureates Beijing Forum 2005 is sponsored by the Development Research Centre of the State Council and the Beijing municipal government.

The laureates and five other eminent economists will address and interact with Chinese officials, researchers and entrepreneurs. The Development Research Centre of the State Council is to hold a seminar with the Nobel winners on May 31.

Officials with the Beijing municipal government and local researchers will also have talks with some of the 13 well-known economists, sources said.

Discussion topics include the Olympic economy, education and economic growth, as well as urban development.

Some of the laureates know the Chinese economy intimately. Mundell published Inflation and Growth in China in 1996. He says the Chinese Government should keep the value of the renminbi stable.

Mirrlees has been an adviser to the Chinese Government and is a distinguished professor at the Chinese University of Hong Kong and an honorary professor at Peking University.

"However, the forum will not discuss any China-specific issue," Li Jiange, vice-minister of the Development Research Centre of the State Council said yesterday.

"The forum, which has a global vision, will focus on long-term economic strategy," he said.

Economic issues in China such as over-investment in some sectors, macro-economic controls and the exchange rate of the renminbi have been at the centre of global attention in recent years. It is likely they will be the subject of lively debate during the forum.




Today's Top News
Top China News

Nation favours US-DPRK contact




Soong in Beijing for historic meeting




Nobel laureates to discuss development




Firms eye 2008 Olympic security budget




President back home from Moscow ceremony




Most Japanese say shrine visits should stop