Japan and Australia face Iraq hostage crises
(Agencies)
Updated: 2005-05-10 19:28
BAGHDAD - Two staunch U.S. allies in Iraq grappled with hostage crises on Tuesday as Japan confirmed one of its citizens was missing and a deadline set by the captors of an Australian passed with no word on his fate.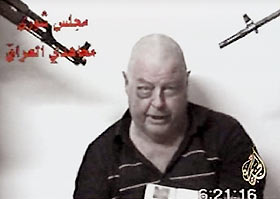 Australian hostage Douglas Wood, 63, is seen in this image taken from al Jazeera television footage released on May 6, 2005. [Reuters]

Insurgents launched two more suicide car bomb attacks in Baghdad, killing eight people and wounding more than 20. Over the past two weeks a surge of guerrilla bombings and ambushes has killed more than 300 Iraqis and wounded hundreds more.

One of Iraq's most feared insurgent groups, the Army of Ansar al-Sunna, said in an Internet statement it had ambushed a foreign security convoy near a U.S. base in western Iraq and captured a Japanese citizen. A picture of the man's passport posted on the Internet gave his name as Akihiko Saito, aged 44.

The group said video of the hostage, who works for a British security company, would be posted soon.

Ansar al-Sunna has killed scores of hostages, including foreigners from countries with no connection to the Iraq war. Last August the group killed 12 Nepalese migrant workers, beheading one and then riddling the others with bullets.

Another insurgent group, the Shura Council of the Mujahideen in Iraq, is holding an Australian hostage -- 63-year-old engineer Douglas Wood, seized in Baghdad last month.

In a video shown on Al Jazeera television last week, Wood was shown looking distraught as two masked insurgents pointed rifles at him. His head had been shaved and he appeared to have a black eye. The insurgents demanded Australia withdraw its troops within 72 hours -- a deadline that expired on Tuesday.

Australian Foreign Minister Alexander Downer said there had been no word about Wood's fate since the deadline passed.

"We haven't heard anything ... we just don't know what to think and we are continuing to work on the case," he said.

"It's too unpredictable. The sense we have is that the people who have taken Douglas Wood are more politically driven. So that makes it hard to know how to handle it."

U.S. ALLIES

Both Australia and Japan have troops in Iraq backing up the U.S. military. A new batch of 450 Australian soldiers is due to arrive soon in southern Iraq, taking the total of Australian troops in and around Iraq to about 1,400.

Japan has around 550 soldiers in Iraq, a largely symbolic deployment as they are not allowed to take part in combat.

Both Australia and Japan have repeatedly said they will not bow to the demands of kidnappers. Besides Saito, six Japanese have been taken hostage in Iraq. Five were released but Shosei Koda, a backpacker, was beheaded by his captors last year.

Japanese Defense Minister Yoshinori Ohno said the kidnapping would not affect the deployment of Japanese troops in Samawa.

"Under present circumstances, it does not affect activities of the Self-Defense Forces in Samawa. Security there is not particularly worsening," a spokeswoman quoted Ohno as saying.

The Army of Ansar al-Sunna said it had captured Saito after ambushing a convoy carrying 12 Iraqis and five foreigners near the town of Hit in the rebellious western province of Anbar. It said all those in the convoy except Saito were killed.

Japanese media said Saito was a 20-year veteran of the French Foreign Legion and had spent two years in Japan's army.

"He has serious injuries and we will soon issue a video showing him," his captors said in their Internet statement.

The past few weeks have seen a sharp escalation in guerrilla attacks. On Tuesday a suicide bomber blew himself up near a U.S. military patrol in central Baghdad, killing eight Iraqis. A second suicide bomber targeted a base for the Baghdad river police on the banks of the Tigris, wounding three policemen.

Three U.S. Marines were killed in separate incidents in western Iraq on Monday, bringing to 13 the number of American troops killed in action in Iraq since Saturday.

The U.S. military has launched an offensive in the far west of Iraq near the Syrian border, where it says insurgents have established strongholds and are smuggling fighters and weapons.

Heavy fighting has been reported in the town of Qaim and the surrounding area, and the U.S. military says at least 100 insurgents have been killed. The offensive is focusing on a remote desert area north of the Euphrates river.

"The region, a known smuggling route and sanctuary for foreign fighters, is also used as a staging area where foreign fighters receive weapons and equipment for their attacks," the U.S. military said in a statement.

It said insurgents attacked a Marine patrol near Qaim with rocket-propelled grenades, roadside bombs and two suicide car bombs on Monday, but the attack was repelled with no Marines killed.




Today's Top News
Top World News

Nation favours US-DPRK contact




Soong in Beijing for historic meeting




Nobel laureates to discuss development




Firms eye 2008 Olympic security budget




President back home from Moscow ceremony




Most Japanese say shrine visits should stop