RMB speculation fails to materialize
(Agencies)
Updated: 2005-05-10 11:54

The yen traded at its lowest this month against the dollar and the euro in Asia as speculation waned that China was close to allowing gains in the yuan.

Japan's currency rose to a seven-week high on May 4 as traders bet China would soon allow the yuan to move more freely. The yuan was unchanged in a special trading session on May 8 at the end of a week-long holiday, damping expectations the mainland would relax the currency's peg to the dollar. JPMorgan Chase & Co. chief China economist Frank Gong had predicted a move last week.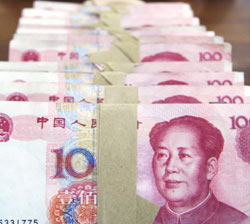 RMB banknote

"There was a lot of speculation, but I think we're still months away from a revaluation," said Tim Mazanec, a senior currency strategist in Boston at Investors Bank & Trust Co., which has $1.1 trillion in assets. "If you believe China is not about to revalue, then you look for the yen to slide."

Against the dollar, the yen was at 105.63 at 11:42 a.m. in Tokyo, from 105.63 late yesterday in New York, according to EBS, an electronic currency-dealing system. It earlier reached 105.82, the weakest since April 29. The yen may fall to 107.50 in a few weeks, Mazanec said.

"I'm encouraged that the Chinese have made enormous strides to put in place improvements to their financial system" to allow more yuan flexibility, U.S. Treasury Secretary John Snow said about a meeting between Treasury and Chinese officials on Monday in Washington.

"They are committed to move to a flexible yuan," Snow said in Hartford, Connecticut. He didn't attend the meeting.

Some traders said the speculation about a shift in China's currency was also damped after the meeting between the Treasury officials and Chinese delegation ended without any concrete steps. Snow said he didn't "have a timetable" for a revaluation.

"There was an abnormal amount of speculation in the past week, helping the yen," said Tsutomu Soma, a currency and derivatives trader in Tokyo at Okasan Securities Co. "Now we are seeing a reversal of that trade."

Speculation about a change in China's pegged currency had increased since April 29, when the yuan briefly strengthened to 8.2700 against the dollar, the most since the exchange rate was fixed in 1994. A state-sponsored newspaper in China said the same day that the government may let the yuan trade more freely at any time. China has kept the yuan at about 8.3 per dollar since 1995.

"Chinese policy makers realize there are problems with the system, and they are looking for a good solution," Japan's Finance Minister Sadakazu Tanigaki said at a regular press conference in Tokyo. "I expect China to make an appropriate decision."

JPMorgan's Gong, who said on April 29 that China may revalue its currency in the subsequent week, yesterday said "China was reluctant to reward the speculators, and that's probably the only reason" that the government held off. "They can still move at any time. They can do it before the end of June."