Iran confirms uranium-to-gas conversion
(Agencies)
Updated: 2005-05-10 07:50
Iran confirmed on Monday that it converted 37 tons of raw uranium into gas, its first acknowledgment of advances made in the production process for enriched uranium before it formally suspended nuclear activity in November under international pressure.
The announcement, which means Tehran is in a position to quickly start enriching uranium if it lifts the suspension, comes as European negotiators are trying to seal an agreement to ensure that Iran's nuclear program does not produce weapons.
Enriched uranium is useful in the generation of electricity, which is permitted under the Nuclear Non-Proliferation Treaty, but it also can be turned into nuclear weapons. Iran insists its program has only peaceful purposes, while the U.S. government says Tehran wants to obtain atomic arms.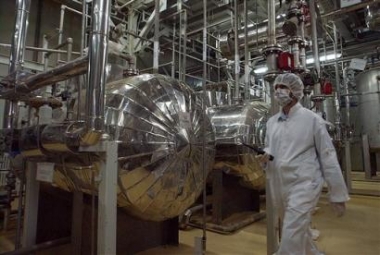 Wearing protective clothes, an Iranian security personnel walks in the Uranium Conversion Facility, prior to the arrival of Iranian President Mohammad Khatami, just outside the city of Isfahan, 410 kilometers, south of the capital Tehran, Iran, in this March 30, 2005 file photo. Iran confirmed for the first time Monday May 9, 2005 that it converted 37 tons of raw uranium into gas, a key step ahead of enrichment, before it suspended all such activities in November under international pressure.[AP/file]

Iran processed the uranium ore concentrate into UF-4 gas before halting enrichment-related activities, said Mohammad Saeedi, deputy head of the Atomic Energy Organization of Iran. If processed further into UF-6 gas, the material could be fed into centrifuges and enriched.

"We converted all the 37 tons of uranium concentrate known as yellowcake into UF-4 at the Isfahan Uranium Conversion Facility before we suspended work there," Saeedi said.

France, Britain and Germany, which are negotiating on behalf of the European Union, had agreed in talks ahead of the November suspension that the Islamic Republic could finish processing the 37 tons of raw uranium into gas.

But Saeedi's comments were the first confirmation that the project had been completed and came as talks with the Europeans have deadlocked, with the EU powers pressing for a complete end to Iran's enrichment program in return for economic incentives.

Nuclear experts say that when fully processed, the 37 tons of yellowcake could theoretically yield more than 200 pounds of weapons-grade uranium, enough to make five crude nuclear weapons.

To avoid referral to the U.N. Security Council for possible sanctions, Iran agreed to suspend actual enrichment at its Natanz uranium enrichment plant in 2003. It then suspended other uranium enrichment-related activities ¡ª including the conversion of yellowcake into gas and the building of centrifuges ¡ª in late 2004 to bolster international confidence.

To show its dissatisfaction with lack of progress in the talks with Europe, Foreign Ministry spokesman Hamid Reza Asefi said Sunday that Iran had decided to resume some uranium reprocessing activities. Saeedi said that might happen in two or three days.

UF-6 gas can be enriched to a low level to produce fuel for generating electricty. But the nuclear treaty bans Iran and other member states except the five nuclear powers ¡ª the United States, Russia, China, Britain and France ¡ª from enriching the uranium further and making it suitable for producing a bomb.

The Natanz enrichment plant and a uranium conversion facility in Isfahan house the heart of Iran's nuclear program. The Isfahan conversion facility reprocesses uranium ore concentrate into gas, which is taken to Natanz and fed into centrifuges for enrichment.

Iran's top nuclear negotiator Hasan Rowhani said Iran already has produced some UF-6 and completed work on its uranium reprocessing program before the formal suspension in November.

"Last year, we could not produce UF-4 and UF-6. We didn't have materials to inject into centrifuges to carry out enrichment, meaning we didn't have UF-6," Rowhani said.

"But within the past year, we completed the Isfahan facility and reached UF-4 and UF-6 stage. So, we made great progress," he said in comments reported in two Iranian magazines in March. His office confirmed the comments to AP on Monday.

Iran also made progress in building centrifuges before the suspension, Rowhani said.

"It's true that we are currently under suspension, but we conducted a lot of activities in 2004. Today, if we want to restart enrichment, we have sufficient centrifuges at least for the early stages, while we didn't have such a capacity 15 months ago," he said.

Rowhani was responding to criticism from Iranian hard-liners that suspension of uranium enrichment-related activities had harmed Iran's technological advancement. Iran's nuclear program has turned into a matter of national pride for both reformers and hard-liners.

Rowhani said Iran also has gone a long way in building a 40-megawatt heavy water nuclear reactor that will be capable of producing plutonium in the central city of Arak, although it is believed to be years from completion.

"In technical terms, we didn't have suspension in the Arak heavy water plant even for one day," he said. "That means we've constantly made progress. It's possible that production of heavy water will be completed in the upcoming months."