Beijing addresses terror issue for Games
By Li Jing (China Daily)
Updated: 2005-05-10 06:05
In the lead up to the 2008 Olympic Games, Beijing will work closer with other countries on anti-terrorism, especially in intelligence exchange and police training, to ensure a safe event.
Qiang Wei, deputy Party secretary of Beijing, said the world is facing an increasing threat from terrorism and international co-operation is imperative in the fight against such attacks.
"As a massive gathering of thousands of athletes, coaches, journalists and leading officials from more than 200 countries, the Olympic Games is one of the prime targets for terrorists who want to make worldwide unrest," said Qiang at an international anti-terrorism forum held yesterday in Beijing.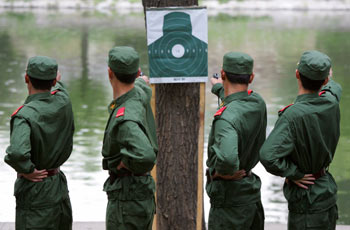 Chinese paramilitary policemen aim their pistols during a shooting drill near a creek in Beijing May 10, 2005. [Reuers]
Nearly 200 security officials and experts from home and abroad attended the forum, exchanging experiences on anti-terrorism and Olympic security.
Qiang told the forum that Beijing has carried out a comprehensive Olympic security plan which involves the participation of almost all the security organizations around the city, such as the public security bureau, the national security bureau and the armed police.
Even drivers of subway trains, buses and taxis, and members of neighbourhood committees, have been included in the security scheme, Qiang added.
Apart from mobilizing domestic resources, Qiang said Beijing would team up with the security institutions of other countries during its preparations for the 2008 Olympic Games.
He said in November last year, the Chinese capital had invited several leading police officials from six other capital cities, such as Moscow, to attend a forum in Beijing.
"Police leaders of the capital cities agreed to set up a co-operation mechanism on anti-terrorism at the forum.
"In the future, we will try to work with many more cities, especially those that have hosted the Olympic Games, to learn about their experiences in security and enhance intelligence exchanges with them," said Qiang, also head of the co-ordination team organizing Olympic security that was established last December.
He said Beijing would set up a special anti-terrorism force and invite foreign experts to train them.
The task force will be armed with advanced equipment and carry out anti-terrorism exercises, said Qiang at yesterday's forum.
The forum is part of the China (Beijing) International Exhibition and Symposium on Police Equipment and Anti-terrorism Technology and Equipment.
The exhibition is to be held between today and Thursday at the Beijing Exhibition Centre. Various kinds of police equipment and instruments will be on show.
Sources say Beijing will probably buy some advanced equipment at the exhibition to arm its anti-terrorism forces.
(China Daily 05/10/2005 page3)
Today's Top News
Top China News

Most Japanese say shrine visits should stop




Forum brings opportunity to knock




President Hu meets Chirac, Putin in Moscow




Hometown gives Soong a heroic welcome




RMB speculation fails to materialize




US$5m quake relief funds embezzled