President Hu meets Chirac, Putin in Moscow
By Sun Shangwu (China Daily)
Updated: 2005-05-10 02:10
Moscow: Visiting Chinese President Hu Jintao said here Monday that the increased exchange across the Taiwan Straits is good for maintaining cross-Straits peace and stability.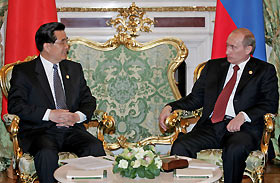 President Hu Jintao speaks to Russian President Vladimir Putin (R) during a meeting in Moscow, May 9, 2005.

He made the remarks when meeting with his French counterpart Jacques Chirac. Both of them were here to attend the celebration for the 60th anniversary of victory over Nazi Germany.

Hu briefed Chirac the latest cross-Straits situation, according to a Foreign Ministry spokesman taking part in the meeting.

Lien Chan, chairman of the Kuomintang Party in Taiwan, just concluded his visit to the Chinese mainland at the beginning of this month.

While James Soong, chairman of the People First Party, is now visiting the mainland. Hu is expected to meet Soong Thursday in Beijing.

Chirac said that the French Government sticks to the one China principle and this stance will not be changed.

He reiterated that French Government will continue to push European Union (EU) to lift the arms embargo on China.

The two leaders also exchanged views on enhancing bilateral economic and trade co-operation.

When talking about the textile issues, Hu said that China attaches great importance to the issue and hope the two sides could solve the problem with equal consultation.

The EU cited serious concerns about the impact of a surge of Chinese exports on the EU textile industry.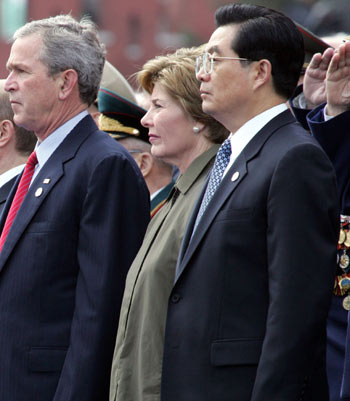 Chinese President Hu Jintao (right) stands with U.S. President George W. Bush and his wife Laura during a military parade in the Red Square in Moscow, May 9, 2005. Russian military and war veterans paraded on Red Square in a World War Two victory ceremony. [Reuters]
On the nuclear negotiation between EU and Iran, Hu said that China supports EU to continue talks with Iran and hopes they could find a long-term solution.
When meeting with Russian President Vladimir Putin on Monday, the two presidents agreed to strengthen the development of the strategic partnership.
The two countries should increase coordination so as to safeguard regional and global stability, said Hu.
Hu extended his congratulation to Putin for the successful celebration for Victory Day.
Putin said that he is satisfied with the smooth development of bilateral relations and is looking forward to Hu's official visit to Russia t the end of June.
The Chinese President on Monday also met with Romanian President Traian Bbasescu.
Bbasescu said that Romania welcomes Chinese businessmen to make investment there.
The two countries enjoy good co-operation in such sectors as tourism and transportation facilities.
Hu concluded his visit to Russia on Monday and will arrive in Beijing on Tuesday.
Today's Top News
Top China News

Most Japanese say shrine visits should stop




President Hu meets Chirac, Putin in Moscow




60 years on, world remembers war heroes




Hometown gives Soong a heroic welcome




Beijing addresses terror issue for Games




HSBC doubles China insurer stake with $1.04b