President Hu meets world leaders for talks
By Sun Shangwu (China Daily)
Updated: 2005-05-10 00:00
Visiting President Hu Jintao held separate meetings with several leaders following the ceremony to mark the 60th anniversary of victory over Nazi Germany.
He met Russian President Vladimir Putin, Romanian President Traian Bbasescu and French President Jacques Chirac yesterday.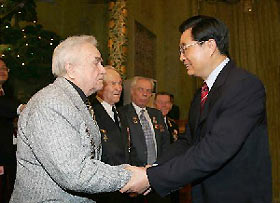 President Hu Jintao(R) shakes hands with Russia veterann of World War II in Moscow May 8, 2005. [Xinhua]

Each touched upon issues ranging from bilateral relations as well as regional and international affairs of common concern.

On Sunday, he also met President Roh Moo-hyun of the Republic of Korea (ROK) and President Saparmurad Atayevich Niyazov of Turkmenistan.

Hu said China hoped all parties concerned should make joint efforts to restart the stalled six-party talks on nuclear issues on Korean Peninsula.

"We always think that the peaceful resolution of the nuclear issues on Korean Peninsula conforms to the interests of all parties concerned," said Hu during a meeting with Roh.

The Democratic People's Republic of Korea (DPRK), the ROK, the United States, Japan, China and Russia have met for three rounds of talks on ending the DPRK's nuclear programmes, but there has been little progress.

A fourth round has failed to materialize after DPRK demanded that Washington end what it calls a "hostile policy."

China has been making continuing and positive efforts to persuade parties concerned to seek peace by dialogues, Hu said.

"No matter what kind of problems we meet, so long as there is a glimpse of hope, we will continue to make efforts to achieve the goal of seeking peace through negotiation," Hu added.

China hopes all parties will make joint efforts to restart the six-party talks "at an early date."

Roh expressed gratitude for China's positive devotion to pushing the six-party talks.

He said that all parties concerned should pay serious attention to the changes in the situation on Korean Peninsula.

"The ROK hopes the Peninsula could keep peace and stability and China could continue to play positive roles," said Roh.

On bilateral relations, the two presidents agreed to push economic and trade ties and increase their political trust.

They predicted the bilateral trade volume will total US$100 billion this year.

Hu and Roh are also satisfied with bilateral co-operation in security and defence sectors.

Hu on Sunday also held separate meeting with President Niyazov of Turkmenistan.

They agreed to expand economic and trade co-operation, especially in textile, communication, telecommunication and the oil and gas sectors.




Today's Top News
Top China News

60 years on, the world remember war heroes




President Hu meets world leaders for talks




HSBC doubles China insurer stake with $1.04b




Hometown gives soong a heroic welcome




Auditing unveils scandal in quake relief




Most Japanese say shrine visits should stop