Hometown gives Soong a heroic welcome
By Xing Zhigang/Jiao Xiaoyang (China Daily)
Updated: 2005-05-10 00:00
XIANGTAN: It was an emotional and touching day for Taiwan opposition leader James Soong yesterday. During a rest bite from his intense mainland mission, the chairman of the People First Party (PFP) went emotionally back to his roots and into the bosom of his distant family.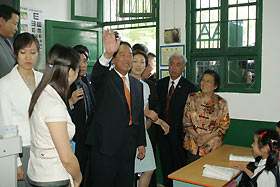 PFP Chairman James Soong(C) waves to greet the school students during a visit to a primary school where he used to study in, Xiangtan, Central China's Hunan Province May 8, 2005. [newsphoto]
Fifty-six years after leaving his hometown, he returned to Juyu Village in Xiangtan of Central China's Hunan Province to worship his ancestors.
Soong was born here in 1942 andleft for Taiwan in 1949.
The 63-year-old leader and 10 other family members from Taiwan including his 87-year-old mother, paid respects at the tombs of his great grandfather and grandparents.
Despite the drizzle, hundreds of thousands of people from Juyu and surrounding villages lined up for miles along the village road to give him a heroic welcome.
With roaring lion dance shows and deafening gongs and drums, the normally quiet hillside village put on a warm welcome for its returning son.
Villagers held banners which read "Welcome home, Mr Soong!" and "Chu-yu (Soong's given name), welcome back home!"
Following traditional ancestor-worshipping rituals, Soong and his family swept the tombs of his great grandfather and grandparents amid the sound of firecrackers.
During a tomb-side speech, Soong said he has never forgotten the Soong family teaching that all descendants of the family should be worthy of their capacity as a Chinese.
"I am a Hunan native, I am a Taiwanese man but I am also Chinese," he said while trying hard to hold back tears.
Following the memorial service, the PFP leader addressed the villagers in his local dialect and thanked them for greeting him so warmly.
"I'm very excited to see a prosperous village that was destitute when I left in 1948," said Soong, describing himself a child being nurtured on Hunan rice and water from the local Xiangjiang River.
He even quoted late Chairman Mao Zedong's poem that sighs for the change of the world: "Were Nature sentient, she too would pass from youth to age; But Man's world is mutable, seas become mulberry fields."
Family reunion
Another emotional moment came when Soong met with about 20 of his mainland relatives at noon yesterday, the first family reunion in 56 years.
A tearful Soong hugged his uncle Song Yangzhao tightly, while Soong's wife and many of the relatives, including his cousins, shed tears.
Soong's mainland relatives presented him a photo of his great grandfather and an ancestral jade plate at the much-anticipated gathering.
The PFP leader said his own family reunion has prompted him to think more about cross-Straits unity.
"People on both sides of the Straits share the same ancestral origin, culture and language and should unite to strive for rejuvenation of the whole Chinese nation," he stressed.
He Qiquan, a 46-year-old farmer in the village, said: "We're proud that Soong is a man who does not forget his ancestral root and works hard to promote cross-Straits peace."
Coincidentally, 64 kilometres west of the village is Mao's hometown, which is also under the jurisdiction of the city of Xiangtan.
Yesterday afternoon, Soong visited his alma mater, Shuguang Elementary School, where he studied in 1949 for a semester. After touring the school founded in 1902, he donated 200,000 yuan (US$24,183) to help fund a new library.
Hunan is the fourth leg of Soong's nine-day trip. He will fly to Beijing this afternoon for a scheduled meeting with Hu Jintao, general secretary of the Central Committee of the Communist Party of China.
(China Daily 05/10/2005 page2)
Today's Top News
Top China News

President Hu Jintao meets Chirac, Putin in Moscow




60 years on, world remembers war heroes




HSBC doubles China insurer stake with $1.04b




Hometown gives Soong a heroic welcome




Auditing unveils scandal in quake relief




Most Japanese say shrine visits should stop