60 years on, world remembers war heroes
By Sun Shanghai (China Daily/Xinhua)
Updated: 2005-05-10 00:00
MOSCOW: With thousands of soldiers and war veterans parading across the Red Square and MiG and Sukhoi fighter jets flying in the sky, Russia held a grand ceremony yesterday to mark the 60th anniversary of its victory over Nazi Germany.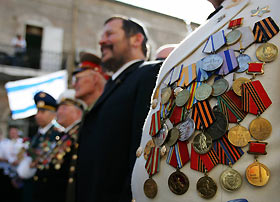 Jewish World War II veterans march during the ceremony to mark the 60th anniversary of the victory of the Allies over Nazi Germany in Jerusalem May 9, 2005. [Reuters]
More than 50 world leaders, including Chinese President Hu Jintao, stood shoulder to shoulder at the event yesterday.
Delivering a speech at the start of the parade, Russian President Vladimir Putin congratulated participants attending the military parade on Victory Day, and praised all those who fought for freedom and independence of other nations.
"The war shows that resorting to force to solve problems will result in tragedy in the world, so a peaceful order should be safeguarded based on security, justice and cultural exchanges," Putin said.
No war, neither 'cold' or 'hot'
"Faced with the real threat of terrorism today, we must, therefore, remain faithful to the memory of our fathers. It is our duty to defend a world order based on security and justice and on a new culture of relations among nations that will not allow a repeat of any war, neither 'cold' nor 'hot'," he said.
Besides Hu, other leaders attending the celebration include US President George W Bush, German Chancellor Gerhard Schroeder, French President Jacques Chirac and United Nations chief Kofi Annan.
The leaders viewed a grand military parade on the Red Square.
A salute was fired and the national anthem of the Russian Federation was played. Soldiers in modern and WWII-era uniforms and weapons marched in tight formation, the slap of their boots echoing across the cobblestones of the square.
Silver-haired veterans with rows of medals on their chests filled the stands set up in front of the GUM department store on the periphery of the square, which had a huge victory banner draped across its long facade.
World War II is perhaps the most catastrophic event that mankind has ever suffered. The war affected 80 per cent of the global population at the time, from 61 countries and claimed 55 million lives.
After attending the celebration, the visiting Chinese president said people should learn lessons from history to avoid the repeat of war.
Learning from history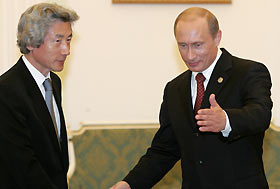 Russian President Vladimir Putin (R) invites Japanese Prime Minister Junichiro Koizumi for talks in Moscow, May 9, 2005.[Reuters]

"Human society should take history as a mirror and look forward to the future," said Hu.

He noted that peace, development and co-operation have become trends in today's world.

"Peace is the precondition for development, while development is the important basis for peace, and co-operation is an important way for achieving the lasting peace and joint development," said Hu.

Peoples from all nations should grasp the opportunity and make concerted efforts to safeguard peace and stability, promote common development and push for full co-operation, said Hu.

"China will unswervingly follow the road of peace and development and is willing to make joint efforts with all nations in the world to make bigger contributions to safeguarding world peace and promoting common development," Hu said.

Hu and other leaders also joined a wreath laying ceremony at the Tomb of the Unknown Soldier yesterday.


(China Daily 05/10/2005 page1)





Today's Top News
Top China News

President Hu Jintao meets Chirac, Putin in Moscow




60 years on, world remembers war heroes




HSBC doubles China insurer stake with $1.04b




Hometown gives Soong a heroic welcome




Auditing unveils scandal in quake relief




Most Japanese say shrine visits should stop