Most Japanese say shrine visits should stop
(Agencies)
Updated: 2005-05-09 21:40
Most Japanese believe Prime Minister Junichiro Koizumi should halt his annual visits to a Tokyo war shrine, poll results released Monday showed amid warnings from China that further visits will inflame troubled relations with Beijing.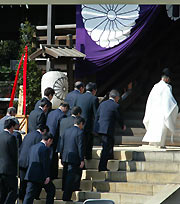 Japanese lawmakers are led by a Shinto priest as they enter to pay their respects at Yasukuni Shrine in Tokyo April 22, 2005. [Reuters]

The results come, however, a day after a ruling party lawmaker said that Koizumi likely intends to continue worshipping at Yasukuni Shrine, which honors war dead including convicted war criminals.

TBS television network said that 61 percent of Japanese believe Koizumi should not visit the shrine while in office, while 34 percent said he should continue what he believes.

Koizumi has visited Yasukuni Shrine four times since becoming prime minister in 2001. The visits have riled neighboring countries, who consider the shrine a glorification of Japan's militarist past.

Hidenao Nakagawa of the ruling Liberal Democratic Party said Sunday that the leader would likely visit again.

``I think Koizumi will visit the shrine again this year, while carefully considering the timing,'' Nakagawa said on a TV talk show.

Koizumi has argued that the visits are simply a way of paying respects to the country's war dead, rather than an honoring of Tokyo's wartime militarism.

Chinese officials, including Foreign Minister Li Zhaoxing this past weekend, have repeatedly cited the visits in explaining deteriorating relations and anti-Japan protests in China last month.

In the TBS poll, the largest percentage of respondents attributed the surge in anti-Japan sentiments in China to Chinese education and its negative portrayal of Japan.

Respondents also cited Japan's own approach to history, wartime atrocities committed by Japan's military and visits to Yasukuni.

Tokyo-Beijing relations have sunk to the lowest level in decades since violent anti-Japan protests erupted last month in several Chinese cities over Tokyo's wartime past, and over Japan's push for a permanent UN Security Council seat.

The Yasukuni shrine honors 2.5 million Japanese war dead, including wartime Prime Minister and convicted war criminal Hideki Tojo. Another trip to the shrine this year by Koizumi would be certain to anger China, South Korea and other countries in the region.

But another LDP lawmaker, Koichi Kato who is a close Koizumi ally, said halting the visits would not help Japan-China relations. The only way to appease Beijing would be to find a different shrine for the convicted World War II criminals, or to set up a separate, secular war memorial, Kato said during the TV Asahi show Sunday.

Tokyo has been thinking of creating a secular memorial, but efforts have stalled.

Koizumi has not paid respects there since January 2004. He has been coy about further visits, saying only that worshipping at Yasukuni would be carefully considered. The visits are supported by ruling party's conservative wing, as well as a powerful lobbying group for family members of war dead.

The TBS poll questioned 1,210 people on May 5 to 8 by phone. No margin of error was provided.




Today's Top News
Top World News

Most Japanese say shrine visits should stop




60 years on, world remembers war heroes




President Hu meets Chirac, Putin in Moscow




Hometown gives Soong a heroic welcome




Beijing addresses terror issue for Games




US offers direct talks with North Korea