HSBC doubles China insurer stake with $1.04b
(Agencies)
Updated: 2005-05-09 15:23
HONG KONG -- Global bank HSBC Holdings, the biggest overseas investor in China's financial service sector, is spending HK$8.1 billion ($1.04 billion) for a 9.91 percent stake in Ping An Insurance Co., doubling its holding in the number-two life insurer.
The London-based bank said it is paying HK$13.20 a share for stakes held by investment banks Goldman Sachs and Morgan Stanley, lifting HSBC's holding to 19.9 percent, the maximum stake allowed by a single foreign investor.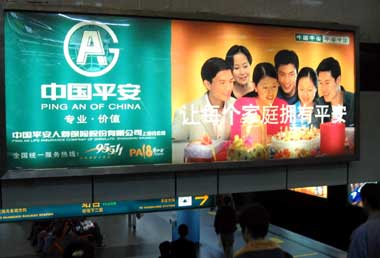 An advertising poster of Ping An Insurance Co. in Shanghai. [newsphoto]

"This is good news for Ping An," said Kenneth Lee, an analyst at Daiwa Institute of Research.

"HSBC is buying at a premium and is replacing Goldman Sachs and Morgan Stanley, which are venture capital investors. HSBC is a long-term investor and will help Ping An to develop its insurance platform," he said.

The price represents a premium of 9 percent over Ping An's Friday closing price of HK$12.10. Ping An shares rose 5.37 percent on Monday morning to HK$12.75.

Goldman Sachs and Morgan Stanley invested in Ping An in June 1994, and prior to Monday's deal, Goldman Sachs held 5.47 percent of Ping An, while Morgan Stanley's stake was 4.67 percent.

The purchase prices paid for those original stakes have not been disclosed, but analysts estimated that Goldman Sachs and Morgan Stanley more than doubled their investments.

"This has been a very successful investment for us," David Liu, managing director of Morgan Stanley Private Equity Asia, said in a statement.

HSBC and its Hang Seng Bank subsidiary have invested more than $2 billion in Chinese banks and insurers as the world's fastest growing economy opens up its financial services sector under World Trade Organisation obligations.

HSBC is expanding its reach in a country where foreign players have a roughly 3 percent share of the market. Overseas insurers tend to focus on the country's wealthier customers in more affluent cities such as Shanghai and Beijing.

Chinese life insurance premiums rose 22 percent to 112.4 billion yuan ($13.57 billion) in the first quarter of 2005.

The deal expands HSBC's exposure to China's financial services sector, where it spent $1.75 billion last year for a 19.9 percent stake in Bank of Communications, the country's fifth-largest lender.

The London-based bank, which was founded in Hong Kong and Shanghai in 1865, is taking the strategic investment route in the Chinese life insurance sector, where foreign providers also have the option of owning up to 50 percent of a joint venture.

The deal brings HSBC's total investment in Ping An to US$1.81 billion following an investment of about $766 million in the company ahead of its initial public offering in June 2004.

The bank also holds a minority stake in Bank of Shanghai, while its Hang Seng Bank subsidiary paid $209 million for a nearly 16 percent stake in Industrial Bank Co., another small mainland lender.

Shares in Shenzhen-based Ping An closed 17 percent above their IPO price on Friday.

Ping An's 2004 profit rose 34 percent, despite a decline in premium income, as it focused on more lucrative, higher-end business.

The company's market share of more than 15 percent of the Chinese market puts it behind domestic competitor China Life Insurance Co., which underwrites about half of all Chinese life insurance premiums.

"We are optimistic about the long-term prospects of the insurance industry in mainland China and believe Ping An is well-positioned to benefit from the sector's development," HSBC Chairman John Bond said in a statement.

Shares of HSBC, which is the world's third-most valuable bank after Citigroup Inc. and Bank of America, were unchanged at HK$126.50 in Hong Kong trading.




Today's Top News
Top China News

60 years on, the world remember war heroes




Hu meets world leaders for talks




Hometown gives soong a heroic welcome




Opportunity to knock at global




HSBC doubles China insurer stake with $1.04b




Auditing unveils scandal in quake relief