China, South Korea press for resumption of 6-way talks
(Agencies)
Updated: 2005-05-09 09:12
China and South Korea have pledged to renew efforts to restart stalled six-party talks aimed at ending North Korea's nuclear program.
Nearly a year has passed since a third round of talks between the South Korea, North Korea, the United States, Japan, Russia and China ended inconclusively in Beijing.
North Korea declared in February that it had nuclear arms and would stay away from the talks indefinitely, intensifying a crisis that began in 2002 over what Washington said was its enrichment of uranium that could be used to make weapons.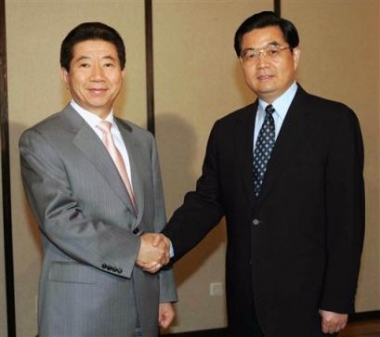 Chinese President Hu Jintao, right, shakes hands with South Korean counterpart Roh Moo-hyun during their meeting in Moscow, Russia, Sunday, May 8, 2005. The two Asian leaders were in Moscow to take part in a celebration of the 60th anniversary of the Allied victory over Nazi Germany. [Xinhua]

Chinese President Hu Jintao and South Korean President Roh Moo-hyun, in Moscow to attend commemorations marking the 60th anniversary of the Soviet Union's victory over Nazi Germany in World War II, called on Sunday for a peaceful resolution of the nuclear issue through dialogue.

Hu urged all parties to try to re-open the six-party talks to make sure the issue stays on the course of peaceful resolution through dialogue.

South Korea hoped for sustained peace and stability on the Korean peninsula and expected China to play an active role in resolving the issue, Roh said.

The United States has acknowledged it may be considering stronger moves against North Korea, such as referring its nuclear programs to the U.N. Security Council for possible sanctions, if Pyongyang continues to stay away from talks.

The United States said on Saturday it had a "robust" ability to deter North Korea in the face of worries that the country might be planning to test a nuclear weapon.




Today's Top News
Top World News

SOE top jobs go up for grab globally




Path of future cross-Strait relations laid down




EU seeks to end textile tension




Japan speaks highly of Hu's proposal on ties




Four listed firms pioneer state share reform




Mum's the word for Chinese in new trend