President praises Soviet veterans
By Sun Shangwu (China Daily)
Updated: 2005-05-09 06:15
MOSCOW: Visiting President Hu Jintao yesterday lavished praise on the joint efforts of Soviet and Chinese soldiers in driving out invaders during World War II.
On the battlefields of Europe during World War II, the Soviet army and civilians made great sacrifices in defeating fascist aggressors, said Hu.
While in the Asia-Pacific theatre, China committed itself to the fight against Japanese invaders and made great contributions to the defeat of fascism the world over, he said.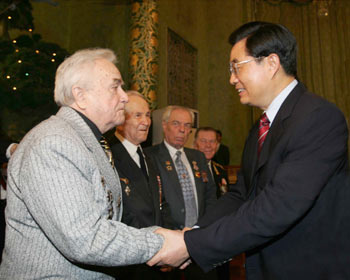 President Hu Jintao meets with Russian WWII veterans in Moscow, May 8, 2005. [Xinhua]
President Hu made the remarks during a meeting with Russian veterans who helped China force out the Japanese during World War II.
Hu touched down in Russia yesterday at the invitation of Russian President Vladimir Putin to attend celebrations marking the 60th anniversary of the Soviet victory over Nazi Germany, which will be held today.
"In this unprecedented war, the Chinese and Soviet peoples fought side by side and formed an everlasting friendship," Hu said.
Many Chinese participated in the battles against Nazi Germany in the Soviet Union, including Mao Anying, son of late Chairman Mao Zedong.
Russian Ambassador to China Igor Rogachev on April 29 in Beijing awarded medals to 27 Chinese who contributed to the fight against fascism in the former Soviet Union.
According to records, in August 1945, 1.5 million Soviet soldiers launched attacks against the Japanese army in northeastern China on three fronts.
In partnership with the Chinese army, the Soviet Red Army wiped out the enemy in about 20 days.
"Many of you took part in the war against Japan in Northeast China and I show my sincere gratitude to you," said Hu, winning a round of applause from the veterans.
"The victory was the result of our close co-operation on the battlefield," said 84-year-old Vasili Ivanovich Ivanov, who helped liberate Harbin in Northeast China's Heilongjiang Province.
He said he felt "proud" and "honoured" to meet President Hu in Moscow. Ivanov, who is a member of the Russian Veterans' Committee, has visited China several times.
He told China Daily that he was impressed by the fact that China has done a lot to preserve the cemeteries of Soviet soldiers.
In his speech to Russian veterans, Hu urged people to learn from history so as to treasure peace and look forward to the future.
Chinese people have suffered a lot from war and deeply appreciate peace, Hu said.
"China will persistently uphold the banner of peace, development and co-operation and make unremitting efforts to safeguard world peace and promote common development," Hu said.
Peoples from China and Russia should join efforts to achieve the goal of establishing a world of lasting peace and prosperity, said Hu.
In this vein, he said, the establishment of the strategic partnership between China and Russia was in the basic interests of the two countries and peoples.
Also yesterday, Hu held separate meetings with President Roh Moo-hyun of South Korea and President Saparmurad Atayevich Niyazov of Turkmenistan.
Today, Hu will stand shoulder to shoulder with more than 50 world leaders in Moscow's Red Square for the victory celebrations.
(China Daily 05/09/2005 page1)
Today's Top News
Top China News

SOE top jobs go up for grabs globally




Path of future cross-Strait relations laid down




EU seeks to end textile tension




Japan speaks highly of Hu's proposal on ties




Mum's the word for Chinese in new trend




President praises Soviet veterans