Mum's the word for Chinese in new trend
By Yu Zhong (China Daily)
Updated: 2005-05-08 22:27

Mother's Day is yet another Western occasion to become popular among Chinese people along with Christmas and Valentine's Day.

Flowers, jewellery and clothes are among gifts commonly bought for mothers on the occasion.

"More women than men choose to buy presents for mums, and those that do are mostly aged between 22 and 30," said Li Xin, a saleswoman in a Beijing-based outlet of the Japanese Ito Yokato department store.

Li said she had wrapped about 30 gifts by 2 pm yesterday, all costing between 100 and 200 yuan (US$12 -- 24).

"There has been a continuing flow of people buying different gifts for their mothers since May 1," she said.

Li Zhenhong, a saleswoman for Taiwan-based bag brand Cool Dog, said Mother's Day had significantly boosted sales.

"Ordinarily we sell bags worth 4,000 yuan (US$484) a day. But today we expect to make 10,000 yuan (US$1,200)," said Li, who works in a shop in Beijing.

Ma Lin was one daughter who took her mother shopping to mark the day.

"I like to get my mum something she needs as a gift. So I take her shopping," Ma said, buying her mother a bag.

"I wouldn't have known about the festival if it weren't for my daughter," Liu said.

She said what she prefers is simple acknowledgement for her years of hard work from her only daughter.

Liu is doubtless not alone among mothers.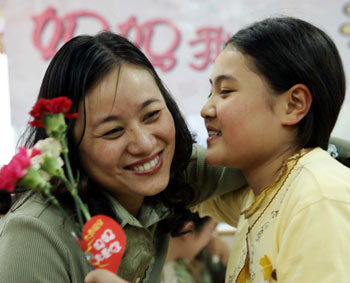 Sun Qin, 12, gives a flower to her mother and says "mom, i love you" in Fuzhou, East China's Fujian Provine May 7, 2005. Fifteen families have a get-together in celebration of the Mother's Day in an event organizzed by the local trade union. [newsphoto]
But many children in China appear to be too shy to simply voice their thanks to their mothers.
"I will send a voice message to my mum via a website," said Chen Xiaoxuan, a teacher in Xiamen, Fujian Province.
Chen said the message expresses feelings she feels "awkward" to tell her mother in person.
There are many people who believe "love can go beyond words or gifts," says Cao Yuguang, a man in his twenties who said he would not be marking the day.
"My mother wouldn't like it if I spent a lot of money buying something or making a long-distance call," he said.
Today's Top News
Top China News

SOE top jobs go up for grab globally




Path of future cross-Strait relations laid down




EU seeks to end textile tension




Japan speaks highly of Hu's proposal on ties




Mum's the word for Chinese in new trend




President praises Soviet veterans