China, Japan clash over past, but look to move forward
(Agencies)
Updated: 2005-05-08 08:42
Japan and China clashed over memories of the past but agreed to take small steps forward including a joint study of history to get their icy relations off rock bottom.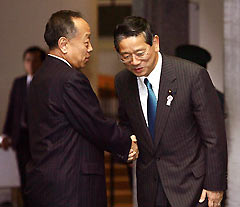 China's Foreign Minister Li Zhaoxing (L) speaks to Japan's Foreign Minister Nobutaka Machimura at the start of a trilateral meeting between Japan, China and South Korea on the sidelines of the Asia-Europe Meeting of foreign ministers in Kyoto May 7, 2005. [Reuters]


In talks between foreign ministers, China and Japan traded demands over rows including anti-Japanese demonstrations in China, the Taiwan issue, and Japanese PM Junichiro Koizumi's annual visits to a notorious war shrine.

But Nobutaka Machimura of Japan and China's Li Zhaoxing agreed to try to repair their relations. Li refused to apologize for Chinese protesters' damage to some Japanese interests in the past few weekends. The sometimes violent demonstrations were set off by Japan's approval of a textbook that many critics say whitewashes Japan's brutal and sometimes barbarous 1931-1945 occupation of China.

Japanese foreign ministry spokesman Hatsuhisa Takashima said the two countries agreed to study their contentious shared history together. "Both countries will select members of the joint study group, and will agree on modalities at the end of this year," Takashima said.

"The two parties expressed their strong wish that relations between Japan and China will be improved, with recognition that these relations not only have bilateral impact but also influence the situation in Asia and the whole world," he said.

But the two foreign ministers clashed openly about how each side's textbooks portray the other country, said another Japanese official.

"Juxtaposing our Chinese history textbook and the textbook of the Japanese rightists is like putting together right and wrong," Li was quoted as telling Machimura.

The Japanese official said Machimura responded by saying Japanese lawmakers had been concerned about "extreme expressions and small remarks about Japan's international contribution after the war" in Chinese textbooks.

The meeting in Kyoto, Japan, where Li was attending a 38-nation Asia-Europe Meeting, came two weeks after Koizumi offered a rare apology for Japan's past before a Jakarta conference, and held a summit with Chinese President Hu Jintao.

China's foreign ministry spokesman Qin Gang said that Li "hoped that Japan can put into actions what it has expressed about the question of history -- that is to implement in action its introspection and apology over history."

The Japanese official interpreted the remark as the latest Chinese warning for Koizumi to stop his annual pilgrimages to the Yasukuni Shrine in Tokyo which venerates Japanese war dead including some convicted war criminals.

Li also warned Japan to stay out of the Taiwan issue after Tokyo and Washington declared the island, which both countries admit is integral part of China's territory, part of their "shared security concern".

"I would like to say calmly to Japan: The Taiwan issue is a domestic affair and a matter of life or death to us. It is dangerous to interfere in China's matter of life or death," Li was quoted as saying.

But Qin, the Chinese spokesman, said China also hoped to increase people-to-people contact including by bringing students from prestigious Peking University to perform in Japan.

"We hope that by stepping up the two countries' exchanges, we can deepen both sides' mutual understanding and strengthen friendliness between the two sides," Qin said.

Friction steadily increased in recent months between East Asia's two leading powers. Japan's bid to play a greater global role has met Chinese demands that Tokyo must do more to atone for its wartime aggression. Japan has been struggling to overcome perceptions in Asia that it has not atoned for its wartime past as it lobbies to win a permanent seat on the UN Security Council, whose composition dates from World War II.




Today's Top News
Top China News

China, Japan clash over past, but look to move forward




Soong pays homage to KMT founder




EU told not to exaggerate textile issue




Hu's Russian trip to fortify partnership




China urges Japan to improve diplomatic ties




China: Do not expect 40% rise in yuan value