Soong pays homage to KMT founder
(Xinhua)
Updated: 2005-05-07 15:08
The visiting Chairman of the People First Party (PFP) James CY Soong said Saturday morning that people from both Taiwan and the mainland hope to "unite again", which is "a historical trend".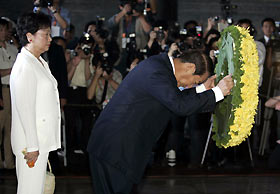 PFP Chairman James Soong(R) bows with wreath a in hand at the mausoleu of Dr.Sun Yat-sen in Nanjing, May 6, 2005. [Xinhua]

After paying homage to Dr. Sun Yat-sen (1866-1925), founding father of the Chinese Kuomintang (KMT) Party, Soong said that people from both sides across the Taiwan Straits should put on steam to achieve reunification of the Chinese nation.

The people from Taiwan and the mainland should also endeavor for their common prosperity, said Soong, who was previously a KMT member.

"The spirit of Dr. Sun is immortal. Who but people of our generation can shoulder his ideal of strengthening the Chinese nation and enriching the Chinese people," Soong said.

Soong and his PFP delegation were warmly welcomed at Dr. Sun's mausoleum. Soong frequently hailed to surrounding people, who were chanting "love our Chinese nation".

Right after homage-paying to Dr. Sun's mausoleum, Soong met with Li Yuanchao, secretary of the Communist Party of China (CPC) Jiangsu Provincial Committee.

Nanjing, capital of the Republican ruled by the KMT before 1949, is Soong's second leg of his nine-day mainland trip. He chose Xi' an, capital of northwest China's Shaanxi province, as his first stop and paid respect to Huangdi, regarded as the common ancestor of all the Chinese people worldwide.

Soong, with his father serving the KMT armed forces, lived in Nanjing for a couple of years in his childhood. Soong's family left the mainland for Taiwan in 1949, when the KMT lost a civil war to CPC and fled to the island province of China.

Soong said progress in Nanjing, now capital of the economically- developed Jiangsu Province, is "stunning".

Soong and his delegation will leave Nanjing Saturday afternoon for Shanghai, the booming business hub in the mainland.

In Shanghai, Soong is scheduled to visit Wang Daohan, president of the Association for Relations across the Taiwan Straits, a major non-governmental conduit for cross-Strait contacts; and meet with head of the CPC Shanghai Municipal Committee and representatives for Taiwan business community in Shanghai.

The PFP delegation is here at the invitation of the CPC Central Committee and its General Secretary Hu Jintao. One of the highlights of Soong's mainland trip will be his meeting with General Secretary Hu.

In a similar endeavor, the KMT delegation, led by Chairman Lien Chan, just wrapped up their eight-day mainland visit Tuesday.




Today's Top News
Top China News

President's Russian trip to fortify partnership




Soong pays homage to KMT founder




China: Do not expect 40% rise in yuan value




Ping-pong team enters 100-gold club




US-Russian disputes rise as leaders meet




Australia firm in face of second hostage tape