Holiday week lashed by deadly storms
By Liu Li (China Daily)
Updated: 2005-05-07 08:59
Deadly thunderstorms claimed the lives of five Chinese over the May Day holidays.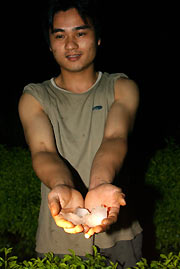 A man displays a few pieces of hailstone near the city of Guangzhou in the evening of May 6, 2005. [newsphoto]

Lightning strikes throughout eastern, central and southern China made for dangerous travel on late Wednesday and Thursday.

Xie Xiangjing and her boyfriend Li Yuqing were struck as they rode a motorcycle in Ningxiang County, Hunan Province on Thursday morning.

Two female workers were killed by the thunderstorm on Wednesday evening at a construction site in Changsha County.

And a 22-year-old man was killed after lightning struck his shop in Changsha, the capital of the province.

Rainstorms lashed East China's Jiangxi, Zhejiang and Fujian provinces, Southwest China's Chongqing Municipality and South China's Guangxi Zhuang Autonomous Region, and Guangdong Province

In North China, temperatures dropped by 10 C to 16 C in the capital Beijing which had slight rain on Thursday, May 5 - traditionally marked as the start of summer.

Snow fell in some areas of the city's western Mentougou District.

The cold weather kept many people at home.

According to sources with the Beijing-based Bafangda company who operated various travel lines to the suburbs, the amount of passengers on their buses declined by over 10,000 due to the cold temperature.

Meanwhile, parks and other sightseeing spots in Beijing received fewer visitors.

It is reported that air quality of the capital city was improved following the light rain and the cold weather.

Yesterday's weather in Beijing was back to seasonal normal and the highest temperature reached 26 C.




Today's Top News
Top China News

China, Japan clash over past, but look to move forward




Soong pays homage to KMT founder




EU told not to exaggerate textile issue




Hu's Russian trip to fortify partnership




China urges Japan to improve diplomatic ties




China: Do not expect 40% rise in yuan value