Hu's Russian trip to fortify partnership
By Sun Shangwu (China Daily)
Updated: 2005-05-07 08:34
President Hu Jintao will stand shoulder to shoulder with world leaders on Monday to mark the 60th anniversary of the Soviet victory over Nazi Germany.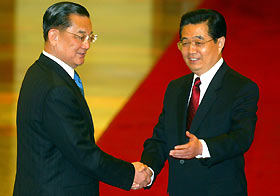 President Hu Jintao(R) shakes hands with visiting Taiwan KMT leader Lien Chan at the Great Hall of the People in Beijing April 29, 2005. [newsphoto/file]

Hu arrives in Moscow on Sunday for a visit which is also expected to boost the Sino-Russian strategic partnership, foreign affairs officials said on Friday.

He is scheduled to meet Russian President Vladimir Putin. The leaders will together attend the ceremony to mark the victory over the war against German fascism.

"The two leaders will exchange views on bilateral ties as well as international and regional issues of common concern," said Chinese Assistant Foreign Minister Li Hui.

Li refused to go into detail about the trip, but Xu Tao, an expert with the China Institute of Contemporary International Relations, told China Daily energy resources will top the agenda.

Xu said: "In my personal view, they will talk on some specific issues, such as energy co-operation between the two countries."

"Hu is expected to push for an oil pipeline project, which is currently under discussion. Cultural and social issues will also be discussed," he added.

"Relations between China and Russia are very solid and the 60th anniversary of the Soviet victory over Nazi Germany has given the two leaders an additional chance to meet each other," said Xu.

Hu will be among more than 50 world leaders, including US President George W. Bush and German Chancellor Gerhard Schroeder at Monday's ceremony in the Russian capital. He will also meet French President Jacques Chirac, President Roh Moo-hyun of the Republic of Korea, President Saparmurad Atayevich Niyazov of Turkmenistan and Romanian President Traian Bbasescu.

"The Russian Government thinks highly of President Hu's decision to attend the celebrations," said Russian Deputy Foreign Minister Alexander Alekseyev in a recent interview with Xinhua in Moscow.

"The peoples of Russia and China contributed considerably to defeating Nazism and militarism," Alekseyev said.

During his visit, Hu will also meet some Russian veterans who helped China fight Japanese invaders during World War II.

Last week in Beijing, Russian Ambassador to China Igor Rogachev gave medals to 27 Chinese who fought with the former Soviet Union army.

Xu said: "Celebrating the victory is significant because it reminds people to make joint efforts to safeguard peace and prevent a repeat of such tragedies."




Today's Top News
Top China News

China, Japan clash over history but look to move forward




Soong pays homage to KMT founder




EU told not to exaggerate textile issue




Hu's Russian trip to fortify partnership




China urges Japan to improve diplomatic ties




China: Do not expect 40% rise in yuan value