President Hu and Bush talk about Taiwan, trade
(Xinhua)
Updated: 2005-05-06 09:41
Chinese President Hu Jintao and US President George W. Bush had a phone conversation Thursday evening, according to sources with Chinese Foreign Ministry.
On the recent exchanges across the Taiwan Straits, Hu stressed that the proper handling of the Taiwan issue remains the key to the healthy growth of China-US relations. China hopes the US side to adopt a constructive attitude in support of the improvement and development of relations across the Taiwan Straits and supports the cross-Straits situation to march toward peace and stability, Hu said.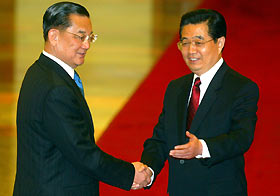 President Hu Jintao(R) shakes hands with visiting Taiwan KMT leader Lien Chan at the Great Hall of the People in Beijing April 29, 2005. [newsphoto/file]

Bush reiterated that the US government adheres to the one-China policy, emphasizing that the stance remains unchanged.

Since the beginning of this year, the Chinese president said, " We have adopted a series of important measures to improve relations and promote exchanges across the Taiwan Straits." All these moves have "won the consent of 1.3 billion Chinese people, including Taiwan compatriots, and are widely acclaimed by the international community," Hu said.

Hu said that "We will continue to promote the improvement and development of cross-Straits relations and actively push forward the process of peaceful reunification of the motherland."

On bilateral ties, Bush said the United States places importance to its relations with China. He made positive comments on the maintenance of high-level contacts between the United States and China, saying that every US-China summit was fruitful.

Bush also said the US side attaches importance to the continuous enhancement of trade and economic relations between the two countries.

Hu said that Sino-US relations maintain steady growth in general and such a momentum conforms to the fundamental interests of the two countries and two peoples and is conducive to the peace, stability and development in the Asia Pacific region and the world at large.

He is ready to make concerted efforts with President Bush for the healthy progress of Sino-US relations.

Hu said trade and economic cooperation between China and the United States have brought substantial benefits to the people of the two countries. As the scale of Sino-US trade and economic cooperation expanded, the occurrence of certain frictions was inevitable, Hu said.

Noting that the problems were caused by various reasons, Hu said the two sides should resolve them in gradual paces and on the basis of equality and mutual benefit.

Hu hoped the 16th meeting of Sino-US Joint Commission on Commerce and Trade (JCCT) to be held in Beijing soon would achieve positive results in addressing the common concern of the two sides.

Hu and Bush also exchanged views on regional situation and other issues of mutual interests.




Today's Top News
Top China News

President Hu and Bush talk about Taiwan, trade




Soong aims for the 'bridge of trust'




China's minister cools yuan revalue talk




Country 'shocked' by Japan's Taiwan stance




Blair makes history, but loses invincibility




EU: No trade war with China over textiles