Solana: It's time to end China arms embargo
(Agencies)
Updated: 2005-05-05 10:27
WASHINGTON - The European Union's foreign policy chief, Javier Solana, pleaded the case for lifting an arms embargo against China, a move strongly opposed by the United States.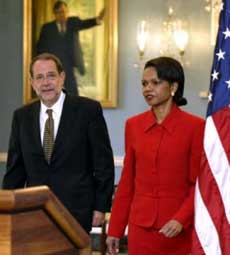 U.S. Secretary of State Condoleezza Rice (R) and Javier Solana, Secretary General of the Council of the European Union and High Representative for Common Foreign Security Policy, walk to the Treaty Room of the State Department in Washington after their meeting, May 3, 2005. [Reuters]

Solana told a press briefing the lifting of the embargo was an essential step to building trust with China.

"I think it's a good idea," Solana said of the EU proposal to lift the ban, "it should have been done a long time ago. Australia lifted the embargo in 1992."

Solana has held talks in Washington with Secretary of State Condoleezza Rice and other top US officials. The US administration has spoken out strongly against resuming arms sales to China, even though the EU has said it will impose a code of conduct that would restrict any deals.

"What is important is to have a sentiment of trust, of confidence, and nobody in the European Union wants to put American soldiers in difficulty," said Solana of the dispute with Washington.

Despite the disagreement, Solana said that the European Union and United States had "decided to deepen the strategic dialogue we have between the EU and the US on Asia."





Today's Top News
Top World News

EU urged to grant full market status




Minister eases European concern on textiles




Lien calls for cross-Straits cooperation




Beijing keeps lid on anti-Japan sentiment




China wins ping-pong mixed doubles




EU envoy working to lift China arms ban