China to assure Europe on textile exports
(Agencies)
Updated: 2005-05-04 10:07
China sought to assure France and EU that it was taking concrete steps to stem a surge in textile exports to Europe and predicted that the pace of such shipments would ease between now and July.
Beijing "hopes that the increase in its textile exports takes place in a moderate way," Chinese Trade Minister Bo Xilai said in Paris amid fears in the EU that its textile industry is being harmed by a surge in Chinese products that followed an end to global textile import quotas on January 1.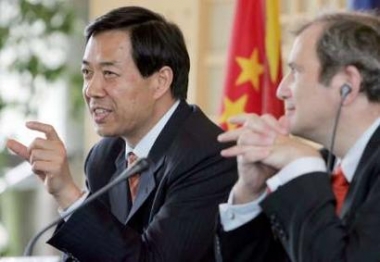 Chinese Commerce Minister Bo Xilai and France's Minister delegate for Exterior Commerce Francois Loos (R) attend a news conference at the French Finance Ministry, May 3, 2005. [Reuters]

"We want to soften the shock wave that could provoke massive exports of Chinese apparel," Bo said after a meeting with his French counterpart Francois Loos. "We are doing what we can to prevent a sharp spike" in exports "in order to achieve a balanced trade."

He said that after sharp increases in textile exports in January and February, the pace had "considerably diminished" in March and April, and he predicted that May, June and July would see a "more measured" increase.

Loos said he agreed that "China could undertake important steps in order not to disrupt the market."

The EU executive commission last Thursday decided to open an inquiry into Chinese exports to Europe in nine categories of clothing, a move that could lead to the imposition of formal limits on such shipments.

Four EU textile producers, France, Italy, Greece and Spain, have asked the commission to apply emergency procedures that would speed up the application of curbs.

French Industry Minister Patrick Devedjian, meanwhile, announced he would travel to China in the next two weeks to further investigate the situation.

Asked in the National Assembly about the state of negotiations with China on the matter, Devedjian replied that dialogue was the "privileged" option, noting that Finance Minister Thierry Breton had met with Bo on Tuesday. "I myself will go to China in two weeks," he added.

Bo insisted that China had already taken effective measures, such as a limitation on certain investments in the textile sector.

The fact that certain countries, knowing the quota regime would expire January 1, preserved their quotas until the last minute was the "main reason" for the jump in exports earlier this year, Bo argued.

He said that while Chinese exports to France are valued at more than 17 billion euros (22 billion dollars), textiles account for only about 1.2 billion euros.

Bilateral trade is "imbalanced," he added, noting that China needs to sell "800 million shirts in order to buy an A380," a reference to the latest aircraft being developed by the European consortium Airbus Industrie.

Bo maintained that the textile sectors in China and France were complementary rather than competitive, since China produced clothing priced in the middle and lower ranges, "which France has not produced for some time."




Today's Top News
Top China News

In one-China frame talks may cover 'any issue'




US-China summits' high stakes




China to assure Europe on textile exports




Iraqi gov't sworn in amid wave of violence




Iran vows to pursue peaceful nuke plans




Latest mine accident kills 20