Palestinian police release Hamas member
(Agencies)
Updated: 2005-05-04 08:31
Palestinian police released a member of a Hamas rocket squad on Tuesday, a day after he was detained, despite a pledge by Palestinian leader Mahmoud Abbas to get tough with those violating a truce with Israel.
The suspect shot at Palestinian officers shortly before his arrest Monday night, and a rocket launcher was found in his car. Even so, Egypt joined the militant group in pressuring Palestinian officials to free him.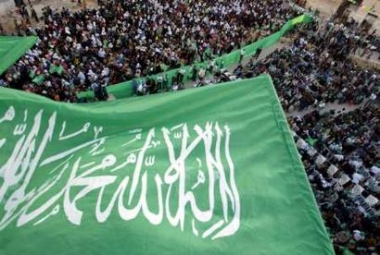 Palestinian supporters of the Islamic Resistance Movement Hamas wave flags during a rally in the West bank village of Taffouh near Hebron May 3, 2005. Palestinian police, enforcing a ceasefire with Israel, arrested two men from a suspected Hamas rocket squad after a gun battle in the Gaza Strip but freed the militants soon after, officials said on Tuesday.[Reuters]

Abbas threatened to strike truce breakers with an "iron fist" last week. But the short-lived arrest illustrated how difficult the mission is when militants have the support of large segments of the population and his strongest allies fail to give him backing.

Egypt was a key mediator in talks with various Palestinian factions to solidify a truce with Israel, declared Feb. 8.

A new threat to the truce emerged Tuesday when militants from the Al Aqsa Martyrs' Brigades in the West Bank city of Nablus threatened to resume attacks against Israel in a week unless Israel stops chasing them. Al Aqsa is linked to Abbas' Fatah movement.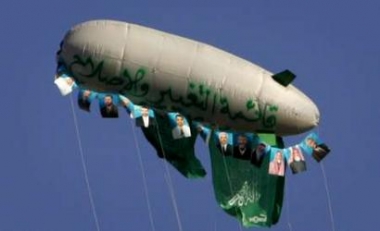 Hamas flags and pictures of Palestinian candidates from the Islamic resistance movement Hamas fly in the sky during a rally two days before the Palestinian local election at the Rafah refugee camp, southern Gaza Strip May 3, 2005.[Reuters]

According to the truce, Israel was supposed to stop arrest raids, but it resumed operations against militants in the West Bank after a Feb. 25 suicide bombing in Tel Aviv that killed five Israelis.

The Nablus militants demanded an amnesty and jobs in the Palestinian Authority — deals that have been offered to gunmen in other towns.

Israel often has declared that a true end to more than four years of violence is impossible unless Abbas disarms the militants, preferably before Palestinian parliamentary elections this summer.

Palestinian officials said Tuesday the election is still on for July 17, despite delays in passing an election law.

The truce has held for the most part, but the Israeli military has noted an upsurge in violence in Gaza over the past month, especially a renewal of mortar and rocket attacks. Most are aimed at Jewish settlements in Gaza, but some rockets have exploded near an Israeli town just outside Gaza.

Late Monday, Palestinian police stopped a car minutes after militants fired two rockets toward an Israeli town. Three Hamas militants in the car opened fire, said Palestinian Interior Ministry spokesman Tawfik Abu Khoussa. Police arrested one of the three, while the other two escaped. Nobody was hurt.

Abu Khoussa said a rocket launcher and other weapons were found in the vehicle, but it was not clear whether the militants were the ones who fired the rockets at Israel.

It was the first time a member of a Hamas rocket squad was taken into custody since Hamas promised Abbas in March it would halt attacks on Israel.

Abu Khoussa said it was "completely unacceptable" to have Hamas members touring with a rocket launcher.

"This is a violation of our commitment (to a truce) and that's what we told the Hamas leadership through the Egyptians," he said.

However, Egypt pushed for the release of the Hamas suspect, who was not identified, for fear the Islamic militants would stage street protests.

Israel said the latest incident shows that Abbas has no choice but to get tough. "As long as there are no real steps to arrest perpetrators, disarm terrorists and dismantle the infrastructure that produces these rockets, there will be no peace and quiet," said Raanan Gissin, an aide to Israeli Prime Minister Ariel Sharon.

U.S. State Department spokesman Richard Boucher said Abbas' Palestinian Authority must take charge. "It needs to be able to exercise responsibility and assert control so that it's not vying for power with other militant and armed groups," he said in Washington.

Sami Abu Zukhri, a Hamas spokesman in Gaza, said his group would not disarm.

"The Palestinian resistance rifles are legal, but the (Israeli) occupation and its rifles are illegal because they are occupiers and invaders," Abu Zukhri said. He said the election is an internal Palestinian matter and Israel should stay out of it.

Israel plans to pull out of Gaza and part of the West Bank this summer, emptying 21 Gaza settlements. Though the government has decided to destroy the Gaza houses, several Cabinet ministers want a new vote. Participants in a Tuesday meeting said Sharon and other ministers favor leaving the buildings intact, while Finance Minister Benjamin Netanyahu was the only one opposed.

Meanwhile, the Abbas' Fatah party beat Hamas in student council elections at a Jerusalem-based university Tuesday, the latest in a trio of varsity victories against radical rival Hamas.

Rafiq Abu-Ayyash, head of the election committee at Al Quds University, which comprises 11 colleges in east Jerusalem and the West Bank, said Fatah won a majority on the 51-seat council for the first time ever, taking 26 places against 23 for Hamas. The small left-wing Popular Front for the Liberation of Palestine, got the remaining two slots.

The results are seen as encouraging by Fatah, which fears serious Hamas inroads into its current parliamentary majority in a national election slated for July, where Hamas will make its legislative election debut.

In student elections last month at Bethlehem University, Fatah won 16 seats and Hamas got 10. At Birzeit University, near Ramallah, the score was a razor-edge 23 seats for Fatah and 22 for Hamas.




Today's Top News
Top World News

In one-China frame talks may cover 'any issue'




Iraqi gov't sworn in amid wave of violence




Iran vows to pursue peaceful nuke plans




Beijing offers aid package as KMT ends visit




Concessions urged as nuclear fears rise




Deal ranks Lenovo as world No 3 PC maker