Iraqi leaders seek deal amid bloodshed
(Agencies)
Updated: 2005-05-03 08:30
Iraq's incoming prime minister struggled to find a Sunni Arab to run the key Defense Ministry in time to join Iraq's first democratically elected government when it takes office Tuesday.
A torrent of bloodshed ¡ª at least 140 killed in five days ¡ª followed the approval of a Cabinet that mostly shut out members of the disaffected Sunni minority.
Disputes persisted over the Defense Ministry on Monday after Prime Minister-designate Ibrahim al-Jaafari filled six of the seven Cabinet seats left undecided last week, said al-Jaafari aide Laith Kuba. The defense portfolio is destined for a Sunni, part of an attempt to balance the conflicting demands of Iraq's competing religious and ethnic factions.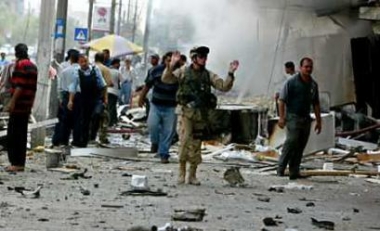 A U.S. soldier asks people to move back following a car bomb explosion in Baghdad May 2, 2005. The U.S. Army missed its goals for signing up recruits in April and expects to do so again in May, and the Marines also fell short, officials said on Monday, as the Iraq war further strained the all-volunteer U.S. military.[Reuters]

The U.S. military, meanwhile, was searching for two missing U.S. Marine jets. The status of the two F/A-18 Hornet aircraft and their crew was not immediately known, the military said in a statement. Contact was lost with the aircraft at 10:10 p.m. (1800 GMT) Monday, the statement said. There were no initial indications of hostile fire in the area at the time.

At least 23 Iraqis were killed Monday, including eight soldiers cut down by a suicide attacker who blew up a truck at a checkpoint south of the capital, and six civilians caught in a car bombing that set fire to a Baghdad apartment building. A British soldier was also killed by a roadside bomb in the southern city of Amarah.

In New York, U.N. Secretary-General Kofi Annan issued a statement strongly condemning the "cruel and heartless" violence apparently aimed at undermining Iraq's newly formed government.

The skyrocketing attacks are blamed on an insurgency believed largely made up of members of Iraq's Sunni minority, who dominated for decades under Saddam Hussein but were excluded from meaningful positions in a partial new Cabinet announced Thursday.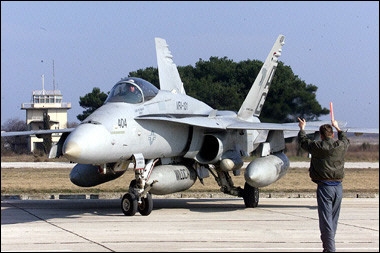 The US military said it had lost contact with two F/A-18 jets, like the one pictured here in Croatia in 2000, over Iraq. [AFP/Reuters]

Al-Jaafari had promised to form a government that would win over Sunni moderates and reduce Sunni support for the insurgency, offering them six ministries and a deputy premiership. But Sunni politicians insisted they be given at least seven ministerial portfolios.

On Sunday, Kurdish factions agreed to give up one of their ministries to meet the Sunnis' demand, said Azad Junduiani, spokesman for the Patriotic Union of Kurdistan, one of two main Kurdish parties.

Salih al-Mutlag, head of the National Dialogue Council, a coalition of 10 Sunni factions, identified the Sunni deputy prime minister as Abid Mutlag al-Juburi, a former major general in Saddam's army. He said three candidates were being discussed for defense minister: Hamid Obeid and Ahmed Rikan, both former generals under Saddam, and Mohammed Hassan.

Members of al-Jaafari's Shiite-dominated alliance refused to confirm any names before President Jalal Talabani and his two vice presidents sign off on them, and they are presented to the National Assembly for a vote.

However, Shiite leaders rejected al-Jaafari's initial choice for defense minister, Saadon al-Dulaimi, because of his ties to Saddam's Baath Party, which brutally repressed the majority Shiites and Kurds. Three Sunni lawmakers quit al-Jaafari's United Iraqi Alliance, complaining he should look within his own coalition first to fill Cabinet posts.

Al-Jaafari wants to have all positions finalized before the new Cabinet is sworn in Tuesday, Kuba said. But the handover between Prime Minister Ayad Allawi's caretaker government and the new Cabinet will likely go ahead even if there are still vacancies, the aide said.

On Jan. 30, millions of Iraqis risked their lives to elect the Shiite-dominated assembly, but many Sunnis boycotted the vote or stayed home for fear of attacks at the polls.

After months of wrangling, al-Jaafari has drawn up a Cabinet that so far includes 15 Shiite Arab ministers, seven Kurds, four Sunnis and one Christian. Two of four deputy prime ministers have also been approved, a Shiite and a Kurd.

Al-Jaafari said he would act as defense minister until one was agreed. And former Pentagon favorite Ahmad Chalabi, the Shiite deputy prime minister, was given temporary responsibility for the key oil ministry.

Even with Sunnis in the Cabinet, Iraqi insurgents have made clear there will be no letup in the unrelenting violence of recent weeks. The country's most feared terror group, al-Qaida in Iraq, has posted statements on the Internet saying any Iraqi government is a puppet of the U.S.-led coalition and it will attack any Sunnis who join.

On Monday, a suicide bomber exploded a truck at an Iraqi checkpoint near Youssifiyah, 20 kilometers (12 miles) south of Baghdad, killing eight soldiers and wounding 20, said Iraqi army Capt. Qassem Sharif.

Two car bombs in Baghdad killed at least nine more Iraqis. One exploded in an upscale shopping district in southern Baghdad and set fire to a six-story apartment building. Six civilians were killed and seven wounded in the explosion, which missed a police patrol, said police Lt. Col. Salman Abdul Karim al-Fartosi. As firefighters fought the blaze, thick black smoke and flames rose from the ground floor.

In eastern Baghdad, a car bomb exploded near a passport office, killing three Iraqis, including two policemen, and wounding six, three of them also policemen, said police Lt. Col. Hassan Chalob.

An American military patrol and a top Iraqi security official narrowly escaped two other bombings, U.S. and Iraqi officials said.

The British soldier from the 12th Mechanized Brigade died of injures inflicted by a roadside bomb in Amarah, 290 kilometers (180 miles) southeast of Baghdad. A total of 87 British troops have been killed in Iraq since the start of the war in 2003.

In northern Iraq, a suicide car bomb and another bomb went off in quick succession near an American patrol in the Mosul area, the U.S. military said. The coordinated attack killed at least two Iraqis and wounded 15, military spokesman Capt. Mark Walter said. Hospital officials, however, said four Iraqis were killed and seven injured.

Two other bomb blasts in Mosul, 360 kilometers (225 miles) northwest of Baghdad, caused minor injuries to U.S. soldiers, and a third one targeting Iraqi soldiers killed one civilian, Walter said. Gunfire in another attack killed another civilian, he said.

Coalition forces have hit back in recent weeks, detaining suspected militants and confiscating hidden arms caches. U.S. and Iraqi forces have detained 84 suspects in the Baghdad area since Sunday, the U.S. military said. An additional 52 suspects were detained Monday in a joint operation in the Diyarah area, south of the capital, the military said.

Meanwhile, Saddam's chief lawyer, Ziad al-Khasawneh, accused unidentified Iranian-backed Iraqi politicians of plotting to assassinate the ousted leader in his prison cell. Iraqi national security adviser Mouwafak al-Rubaie scoffed at the accusations, describing them as a ploy to have Saddam moved to another country to face an international court.




Today's Top News
Top World News

Lien's visit paves way for new exchange




Deal ranks Lenovo as world No 3 PC maker




Workers of the world unite and go shopping




Lien Chan urges common prosperity




DPRK apparently test-fired missile: US




Japan must honour its word on TW: Comment