England to plead guilty in Abu Ghraib scandal
(Agencies)
Updated: 2005-05-02 15:03
Pfc. Lynndie England -- a central figure in the Abu Ghraib prison scandal -- will plead guilty to reduced charges Monday for her alleged role in abusing Iraqi detainees, a spokesman at Fort Hood, Texas, says.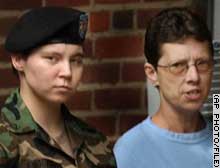 England with her mother in an August 2004 photo.

In photos that drew international ire, England was shown posing with Iraqi prisoners in sexually humiliating positions, including standing with two other soldiers behind a pyramid of naked detainees.

One of the more notorious poses shows her holding a leash tied around one prisoner's neck. In another photo, she mocks a row of naked detainees.

England faces a pre-trial hearing Monday in her court-martial; jury selection is to begin Tuesday.

If the judge approves the plea deal, England is expected to ask the military jury to decide her punishment, apparently hoping for a more lenient sentence than the one in her plea bargain, the spokesman told CNN.

Her military defense lawyer, Capt. Jonathan Crisp, had no comment.

Under the plea agreement, the 22-year-old reservist from rural West Virginia could face a maximum prison term of 11 years, instead of more than 16 years, after pleading guilty to seven of the nine counts against her.

She is charged with two counts of conspiracy, four of maltreatment of prisoners, one count of dereliction of duty, and two counts of indecent acts involving Spec. Charles Graner, her boyfriend, who is believed to be the father of her infant son.

Graner, considered the ringleader of the abuse, is the only guard to stand trial so far. He was convicted at Fort Hood in January and sentenced to 10 years in prison. Four other guards have pleaded guilty, as have two military intelligence operatives at the prison.

England and another female reservist, Spec. Sabrina Harman, are the only two Abu Ghraib military police staffers so far to face back-to-back courts-martial at Fort Hood. Harman, whose case is to be tried May 12, also is seen in the pyramid photo.

Unlike the other six military police unit members charged, England was a clerk, not a guard. But witnesses testified she spent a number of nights in the cellblock while Graner was on duty there.

One of the worst episodes of abuse -- the night of the naked pyramid -- happened on England's 21st birthday.

England was sent from Iraq to Fort Bragg, North Carolina, about a year ago because of her pregnancy. Her case was the only one to be initiated in the United States, rather than Iraq.

When the Fort Bragg commanding general was dispatched to Iraq and the Fort Hood general returned late last year, her case was transferred to Fort Hood, where the charges were reviewed before the court-martial date was set.

In March, the number of counts England faced and the maximum possible sentence were cut by more than half in revised charges filed by the commanding general at Fort Hood. The original charges brought against her at Fort Bragg carried a maximum sentence of 38 years.

Reports of abuse at the prison began surfacing in the fall of 2003. A report by the International Committee of the Red Cross in December 2003 contained information from detainees about the abusive practices, including allegations that prisoners were being forced to strip naked.

The abuse created an uproar around the world months later when photographs depicting the abuse surfaced.

Two sources familiar with the case told CNN that Graner, imprisoned at Fort Leavenworth, Kansas, has married Spc. Megan Ambuhl, who pleaded guilty to her Abu Ghraib charges to avoid a trial. Like England, Ambuhl also was with the Maryland-based 372nd Military Police Company.

Ambuhl admitted having a brief sexual relationship with Graner in Iraq.




Today's Top News
Top World News

'Golden Week' celebration gears up




suicide bomber kills 25 at Iraqi funeral




DPRK apparently test-fired missile: US




Common prosperity urged as mainland economy booms




Japan must honour its word on TW: Comment




Lenovo completes IBM PC division acquisition