Lenovo completes IBM PC division acquisition
(Agencies)
Updated: 2005-05-02 10:04
China's largest computer maker Lenovo and IBM of the United States have said they had completed a deal to create the third-largest computing company in the world.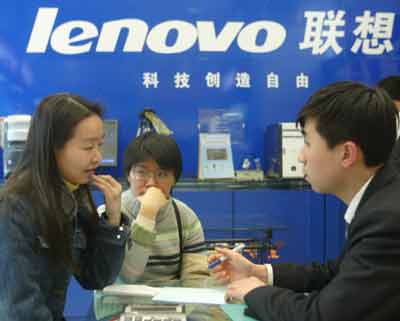 A Chinese salesman (R) talks with the customers in front of Lenovo signage at a computer shop in Beijing in this March 10, 2005 file photo. Three U.S. private equity firms - Texas Pacific Group, General Atlantic LLC and Newbridge Capital LLC - have agreed to invest US$350 million in the Lenovo Group Ltd., the Chinese computer maker that is buying IBM's personal computer business, the parties confirmed on Wednesday. [Reuters]


Under the 1.75-billion-dollar deal, which shocked the world when first announced late last year, Lenovo has acquired IBM's Personal Computing Division.

Observers have characterized it as the most dramatic example yet of Chinese companies' expansion abroad, a herald of what the world can expect from a revitalized China in the years and decades ahead.

"The closing of this transaction is a historic event for Lenovo and marks a new era for the global PC industry," Lenovo chairman Yang Yuanqing said in a statement Sunday.

"The new Lenovo's strategy is based on what our customers want: high-quality products and world-class service," he said.

Stephen Ward, chief executive officer of Lenovo, said the newly-created giant would be introducing new products "within weeks".

Lenovo will manufacture PCs for the global market with the IBM name under the deal signed last year, gaining some clout in competing with sector leaders Dell and Hewlett-Packard.

The 1.75 billion dollars Lenovo paid for the acquisition includes 650 million dollars in cash and 600 million dollars in Lenovo shares. It has also agreed to assume half a billion dollars of IBM liabilities.

The deal shows not just corporate China's ever more aggressive acquisition strategies, but also its determination to step onto the global stage.

The executive headquarters of the new expanded Lenovo is in Purchase, New York, but the company will employ a total of 19,000 people worldwide, according to the statement.

"Lenovo is well-positioned, with competitive strengths in branding, world-class scale and industry-leading efficiency," said Ward.

He cited the company's research and development capabilities and its global distribution network as reasons for Lenovos strong competitive position.

The company also said its strengths include global brand recognition, through the combination of the highly regarded "Think" brand notebook franchise and Lenovo's leading brand recognition in China.

Lenovo has one third of the emerging China PC market and leading shares in enterprise PC markets around the world, according to the statement.

The new Lenovo will have combined annual personal computer revenue of approximately 13 billion dollars and volume of about 14 million units.

"We expect to capture synergies starting today through leveraging the complementary nature of Lenovo and PCD's customer bases, product offerings and geographic coverage while utilizing Lenovo's highly sophisticated operating platforms," said Ward.

Sunday's announcement came nearly two months after a US government panel cleared the deal following a review of national security issues.

Analysts said the deal may be good for IBM, which can extract itself from the low-profit PC business to concentrate on more lucrative software and services.

PCs have fallen sharply in price in recent years, with units that previously cost over 1,000 dollars now selling for several hundred dollars less.

Analysts have said Lenovo faces a tough but not insurmountable challenge in absorbing the IBM division and merging two distinct corporate cultures, analysts said.

Far from beginning from square one with a new ally, Lenovo will be building on an old partnership dating back to the 1980s when it was a modest startup distributing IBM computers to the Chinese market, they said.




Today's Top News
Top China News

"Taiwan independence" enters blind alley




Japan urged to keep promise on Taiwan issue




DPRK apparently test-fired missile: US




suicide bomber kills 25 at Iraqi funeral




Alleged Zarqawi tape threatens new attacks




DPRK expects no nuke solution in Bush term