"Taiwan independence" enters blind alley
(Xinhua)
Updated: 2005-05-01 17:12
Diehard advocate of "Taiwan independence" Lee Teng-hui is extremely upset these days. He cannot stand another blow on "Taiwan independence", or any signs of improvement in relations across the Taiwan Straits, or the mainstream call in the island province for better cross-Straits ties.
So, this long-time "troublemaker" -- as he is known in the international community -- has jumped out again to blast Kuomintang (KMT) Chairman Lien Chan and People First Party (PFP) Chairman James Soong for their ongoing or scheduled visits to the mainland, and to brazenly call the Taiwan issue "an international issue".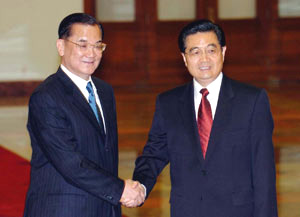 HISTORIC HANDSHAKE: CPC General Secretary Hu Jintao (R) shakes hands with visiting KMT chairman Lien Chan in Beijing April 29, 2005. [Xinhua]
Yet neither Lee's vicious cursing nor his begging for foreign interference can change the fact that there is no way out for "Taiwan independence". Lee's action only betrays his impotence, despair and frustration in the face of reality.
Lee was infuriated, as well as frustrated, by Lien's successful visit to the mainland, to be followed by Soong's visit soon. After several "sleepless nights", he tried to turn black into white by claiming that the Taiwan issue was "an international issue" which should be discussed in Washington instead of Beijing.
But he was frustrated once again as a U.S. State Department spokesman immediately rebuffed his claim and reiterated the United States' stand on the Taiwan issue, that direct cross-Straits dialogue is the best way to resolve tensions.
For Lee, there is no way to seek "Taiwan independence" and he has to face the fact that there's no living space for "Taiwan independence" in the international community, nor will there ever be.
Like all other "Taiwan independence" activists, Lee's secessionist activities unavoidably bear the marks of selling out his country. Claiming that he used to be a "Japanese citizen" when Taiwan was under Japan's colonial rule, Lee said repeatedly when he was in office that the Diaoyu Island of China was "Japanese territory" and that China should be divided into seven parts.
In early April this year, Taiwan Solidarity Union Chairman Su Chin-chiang, who looks on Lee as a "spiritual leader", even visited the Yasukuni Shrine in Japan, which enshrines Japanese wardead, including 14 Class-A war criminals of World War II.
No wonder Lee and his followers were condemned by the general public in Hong Kong and Taiwan as "traitors of the Chinese nation".
PFP Chairman James Soong once criticized Lee for "having forgotten his own roots and origins". "If Taiwan was never a part of China, how could it have been ceded to Japan after the war in 1895, and how could it have been returned to China after Japan surrendered in 1945?" asked Soong.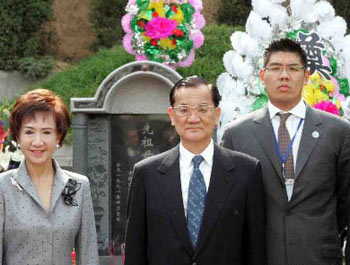 KMT Chairman Lien Chan and wife Lien Fang-yu pay homage to Lien's grandma during a visit to her tomb in Xi'an, Northwest China's Shaanxi Province May 1, 2005. Xi'an is the third leg on Lien's eight-day mainland tour. The 68-year-old Lien was born in Xi'an in 1936 and left the city eight years later. [Xinhua]
It's not that Lee and other secessionists in Taiwan are ignorant of history -- they are merely distorting history in orderto seek foreign help in their secessionist activities. And they are selling out their country and nation for selfish motives.
Incited by some "Taiwan independence" extremists, there was fora time an uproar for "Taiwan independence" in the island province.A small handful of secessionist politicians even sought to justify "Taiwan independence" which runs counter to the mainstream public opinion.
Under such circumstances, pleas for improving and developing cross-Straits relations were labeled as acts of "selling out Taiwan". Lee himself served as a major driving force of such secessionist activities.
But one cannot fool all the people all the time, and politicians who cheat the public to do evil will eventually be denounced by the public.
The Anti-Secession Law, enacted by Chinese lawmakers at their annual full session in March, hit the vitals of the "Taiwan independence" secessionist forces, who made a scene out of fear and frustration and even threatened to turn back the clock in cross-Straits relations. But things did not work out as they wished. Driven by the mainstream call for furthering cross-Straitsrelations, Lien and Soong readily accepted invitations to visit the mainland, which triggered a new round of "mainland enthusiasm"in Taiwan.
Once again, Lee tried to smear the visits as "allying with the Communist Party of China and selling out Taiwan", but to no avail.A recent opinion poll conducted in Taiwan showed the absolute majority of the Taiwan people supported the mainland visits by Lien and Soong, and more than 80 percent of them hoped to see development in cross-Straits ties.
History is ruthless. Lee and his followers may continue to create obstacles for the development of cross-Straits relations, but they can never hold back or reverse the development trend of cross-Straits relations, now being propelled by the joint forces of Chinese compatriots on both sides of the Taiwan Straits.
The mainstream public opinion in Taiwan is in favor of peace, stability, development and the improvement of cross-Straits relations. The real traitors are those who distort, cheat and misappropriate public opinion for their own vicious intentions, and those who claim to love Taiwan but are actually sabotaging thewelfare of the Taiwan people and selling out the future of Taiwan.They will be denounced by the people once their true face is exposed.
Today's Top News
Top China News

"Taiwan independence" enters blind alley




DPRK expects no nuke solution in Bush term




Alleged Zarqawi tape threatens new attacks




Mixed fortunes for China automakers




Insurgents kill 17 Iraqis, US soldier




Presidents Hu, Putin to meet in Moscow