Japan's PM pushes strategic ties with India
(Agencies)
Updated: 2005-04-30 11:25
NEW DELHI - Japan's Prime Minister Junichiro Koizumi agreed with his Indian counterpart to work for a closer strategic and trade partnership following moves by the world's biggest democracy to build closer ties with China.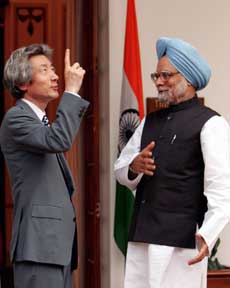 Japan's Prime Minister Junichiro Koizumi (L) gestures as he stands with India's Prime Minister Manmohan Singh in New Delhi April 29, 2005. Koizumi wooed India on Friday, aiming to build a partnership with New Delhi to cope with the growing clout of China in a dynamically changing Asia. [Reuters]

Koizumi, who arrived in New Delhi late Thursday, signed a joint statement with Indian Prime Minister Manmohan Singh committing the two countries to a "high level strategic dialogue."

The dialogue would seek to boost economic, security, energy and other cooperation, said the statement, which also reaffirmed the two country's support for each other's bids for permanent UN Security Council seats.

Analysts said Tokyo was keen to build stronger links with New Delhi in light of China's growing friendship with India. India saw Japan as a crucial support to its UN bid due to Koizumi's close ties with US President George W. Bush but would be careful not to jeopardize warming ties with Beijing, they said.

Koizumi and Singh agreed to "further deepen the Japan-India global partnership" as Asia's clout, particularly in economic areas, expands.

"A strong, prosperous and dynamic India is... in the interests of Japan and vice versa," a joint statement signed by the two leaders said.

Koizumi's effort to woo New Delhi coincides with a warming in relations between New Delhi and Beijing -- and a cooling between China and Japan.

The two sides agreed to aim for a "quantum increase of trade volume."

Bilateral trade is now at about US$4.4 billion and India's Commerce Minister Kamal Nath said it should be able to hit US$10 billion in three years.

"As partners in the new Asian era... and as nations sharing common values and principles, (Japan and India) will expand their traditional bilateral cooperation to cooperation in Asia and beyond," the statement said.

Koizumi's trip to New Delhi came just two weeks after a visit by Chinese Prime Minister Wen Jiabao that put Sino-Indian relations firmly on the path of reconciliation after their brief, bitter border war more than four decades ago.

"I want to strongly emphasize that India has Japan as a friend in Asia," Koizumi told a business audience.

He turned on the charm, telling reporters that "India is a nation that is full of capability and potential" and that the two countries "must cooperate to realize the full potential of the Japan-India ties."

India's Foreign Minister Natwar Singh struck a similarly upbeat note, saying the Japanese leader's visit would allow both countries to take relations "qualitatively to higher levels."

The Japanese prime minister sought to talk up bilateral trade potential during his speech to businessmen.

"Japan-India economic relations have a lot of potential," he said. "I hope you... will help realize the potential of the two nations to its fullest."

India's commerce minister said South Korea, China, the United States and other nations had recognized the intrinsic strength of India's economy and made significant investments in India.

"Japan, on the other hand, has remained somewhat hesitant... Now is the time to seize the opportunity," he said.

The two nations have agreed to start a year of bilateral dialogue to see whether they should start negotiating a free trade agreement. If agreed, it would be New Delhi's first with a developed country.

Japan and India should cooperate as "true global partners" in what he termed as a "new Asian era," Koizumi wrote in a full-page "landmark message to the people of India" published by The Times of India.

After spending a full day in India, Koizumi heads Saturday to Pakistan, traditional rival of India and an ally of China.

Koizumi will then travel to Luxembourg, which holds the rotating EU presidency, where he will likely reiterate opposition to EU proposals to lift an arms embargo on China.




Today's Top News
Top World News

CPC, KMT leaders vow to end hostility across the Straits




New authority to oversee energy sector




EU launches investigation into textile imports




Bank denies yuan revaluation next week




Japan's PM pushes strategic ties with India




Insurgents strike across Iraq, killing 50