Insurgents strike across Iraq, killing 50
(Agencies)
Updated: 2005-04-30 09:16
Insurgents set off at least 17 bombs in Iraq on Friday, killing at least 50 people, including three U.S. soldiers, in a series of attacks aimed at shaking Iraq's newly formed government.
An audio tape by one of America's most-wanted insurgents, Abu-Musab al-Zarqawi, warned President Bush there was more bloodshed to come.
The well-coordinated attacks, which also wounded 114 Iraqis and seven Americans, came as political leaders are trying to curb the insurgency by including all of Iraq's main religious and ethnic groups into an uncertain new Shiite-dominated government that takes office Tuesday. Most of the bombing targets were Iraqi security forces and police, whom insurgents accuse of collaborating with the Americans.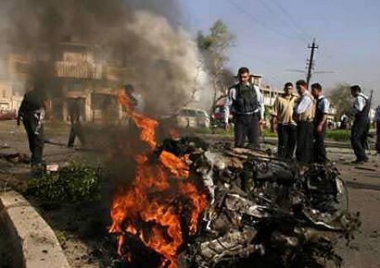 Policemen look at remains of a car that was used in a suicide bomb attack in the Athamiya district of Baghdad April 29, 2005.[Reuters]

An association of Sunni Muslim clerics believed to have links with the insurgency, saw little prospect for peace as long as U.S. forces remain in Iraq.

"We don't believe that the government will solve the problems of an occupied Iraq. We don't trust the government," Harith al-Dhari, head of the Association of Muslim Scholars, told Turkey's Anatolia news agency. "We don't see hope because the occupation is continuing."

U.S. officials had hoped the new Cabinet approved Thursday would help dent support for the militants within the Sunni Arab minority that dominated under ousted leader Saddam Hussein and is now believed to be driving the insurgency. However, the lineup excludes Sunnis from meaningful positions and leaves the key defense ministry in temporary hands.

"You, Bush, we will not rest until we avenge our dignity," al-Zarqawi said in the audiotape that was posted on the Internet. "We will not rest while your army is here as long as there is a pulse in our veins." He threatened more attacks against U.S. forces and warned against collaborating with Americans.

In Washington, an intelligence official said the tape appeared to be genuine.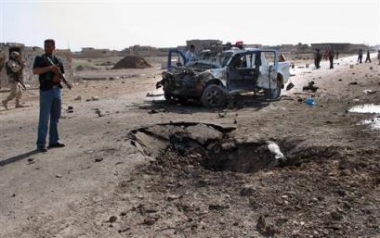 Iraqi police secure the area after a suicide attacker blew up an ambulance packed with explosives near a police special forces patrol, killing four Iraqis, including two policemen in the outskirst of Baqouba, 130 kms (80 miles) north of Baghdad, Iraq, Friday, April 29, 2005. [AP]

In separate statements, posted on a Web site known for its militant content, al-Zarqawi's al-Qaida in Iraq group claimed responsibility for two of the days most deadly assaults ¡ª four suicide car bombings in a Baghdad neighborhood and four other bombings in Madain, south of the capital. The claims could not be verified.

The deadliest of Friday's attacks were multiple bombings in the small Baghdad neighborhood of Azamiyah and in the town of Madain, 12 miles southeast of the capital.

Despite the day's bloody toll, the U.S. military maintained that attacks are diminishing overall in Iraq.

"We see these attacks as another desperate attempt by the terrorists to discredit the newly formed Iraqi government" and "drive a wedge between the Iraqi people and their right to choose their own destiny," the military said in a statement.

Gen. Wafiq al-Samarie, Iraq's presidential adviser for security affairs, urged Iraqis to stand up to insurgents.

"Today too many car bomb attacks took place, but this is not the end," he said in an interview with al-Jazeera television. "Our people should stand up against these criminals. ... Security is everybody's responsibility."

At least 13 car bombs exploded in and around the capital Friday, killing at least 23 Iraqi security force members and wounding 31, the U.S. military said. Iraqi police said they included six suicide attacks.

In the worst attack, four suicide car bombings took place within minutes in Azamiyah, said police chief Brig. Gen. Khalid al-Hassan. The first hit an Iraqi army patrol, the second a police patrol, and the third and fourth exploded at separate barricades near the headquarters of the police special forces unit.

The Azamiyah blasts killed at least 20 Iraqis, including 15 soldiers and five civilians, Col. Hussein Mutlak said At least 65 were injured, including 30 troops and 35 civilians, he said.

Policemen crouched in fear after the explosions, which set fire to the special forces headquarters. One residential building was severely damaged, its white facade blackened and its first-floor shops completely destroyed.

An Iraqi soldier who had rushed to the scene vented his anger against the insurgents, saying: "These people aren't soldiers."

A nearby hospital was filled with seriously wounded Iraqis lying in beds with blood-soaked sheets.

As Louay Mohammed Saleh writhed in pain, covered with bandages, his uncle said the police officer was in a patrol rushing to one of the bomb sites when another bomb exploded near his car.

"I'm dying," Saleh screamed.

In another highly coordinated attack, insurgents detonated a roadside bomb in Madain, then sent two suicide car bombers from two different directions into police special forces as they arrived to investigate, said police Lt. Jassim al-Maliky. At least two more car bombs detonated in the area, one near the city hospital and another targeting a police patrol, police said.

The Madain attacks, which killed 13 people and wounded 20, came less than two weeks after Iraqi forces raided the region to clear it of insurgents. The U.S. military had praised the operation as evidence of the progress made by Iraq in assuring its own security.

In Baqouba, 35 miles north of Baghdad, a suicide attacker blew up an ambulance packed with explosives near a police special forces patrol, killing four Iraqis, including two policemen, said police Brig. Gen. Adel Molan. Twenty Iraqis were injured, including four police, he said.

Also in Baqouba, an Iraqi man armed with grenade walked out of the city's al-Aqsa mosque and threatened to throw it at Iraqi and U.S. forces surrounding the building, the U.S. military said. They opened fire and killed the man, the military said.

Ali Fadhil, of the city's U.S.-Iraqi joint operations center, identified the man as a Sunni cleric believed to be a senior member of al-Zarqawi's Al-Qaida in Iraq terrorist group.

"Imam Abdul Razaq Rashid Hamid ... came out from the mosque with two hand grenades as our forces were surrounding the mosque," Fadhil said. "He threw one of the grenades at the forces while blowing himself up with the second one."

The two accounts could not immediately be reconciled.

West of Basra, about 340 miles southeast of Baghdad, a roadside bomb targeting an Iraqi border guard patrol killed one soldier and wounded two, said Iraqi Lt. Col. Abdul Hadi al-Najar.

At least nine more Iraqis were killed and nine wounded in other scattered violence, including bombings, shootings and mortar fire, officials said.

One American soldier was killed and two others wounded in a car bombing about 18 miles north of the capital, the military said. Two more U.S. soldiers were killed in another car bombing near Diyarah, about 30 miles south of Baghdad.

At least seven American soldiers were wounded in the attacks in and around the capital, said military spokesman Greg Kaufman.

At least 1,575 members of the U.S. military have died since the beginning of the Iraq war in March 2003, according to an Associated Press count.




Today's Top News
Top World News

CPC, KMT leaders vow to end hostility across the Straits




New authority to oversee energy sector




EU launches investigation into textile imports




RMB is not cause of US trade deficit




Pentagon proposes China-US military hotline




Deadly Shanghai fire kills 10, injures 19