Japan, India pledge support for U.N. seats
(Agencies)
Updated: 2005-04-30 09:16
Japan and India agreed on Friday to help each other's bids for a place on the U.N. Security Council, as Prime Minister Junichiro Koizumi wound up talks with Indian leaders aimed at building a new partnership.
His trip to India, the first by a Japanese prime minister in five years, came weeks after a landmark visit by Chinese Premier Wen Jiabao and is part of Tokyo's "strategic diplomacy" to compete with Beijing.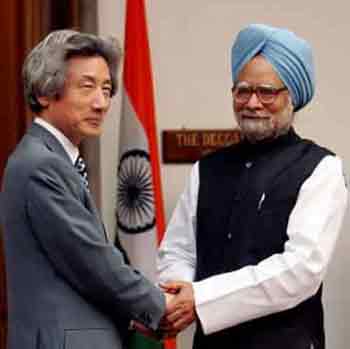 Japan's Prime Minister Junichiro Koizumi (L) shakes hands with India's Prime Minister Manmohan Singh, in New Delhi, April 29, 2005.[Reuters]

They reiterated their support for each other's candidature, based on the firmly shared recognition that Japan and India are legitimate candidates for permanent membership in an expanded Security Council," the two sides said in a joint statement.

India and Japan said they would "strengthen their cooperation" to push to make the Security Council "more credible and more effective" and consult "like-minded" nations.

The joint statement also said both countries' navies and coast guard ships would increase cooperation in Asian waters and would work to deepen economic and strategic ties.

COURTING INDIA

At the bilateral level, Japan was unabashed in courting India, seen by analysts as important in Tokyo's "strategic diplomacy" to cope with a rising China.

"Japan and India need each other as strong and prospering countries. Japan and India share strategic interests," Koizumi said.

Analysts said the building blocks of a future strategic relationship between the two powers were being laid.

"Japan is now becoming cognisant of India's strategic profile in the coming 10 to 15 years and wants to build a foundation for long-term strategic ties," said Uday Bhaskar, director of the New Delhi-based Institute of Defense Studies and Analyzes.

Koizumi told Indian Prime Minister Manmohan Singh that Tokyo attaches importance to its relations with both New Delhi and Beijing.

"I feel certain that relations between Japan and India will become more and more important strategically. But at the same time, it is important to have friendly Sino-Japanese ties," a Japanese official quoted Koizumi as telling Singh.

In his reply, Singh was quotes as saying: "I want to tell you not to worry about friendly relations between Japan and India."

Tokyo and New Delhi are also trying to improve trade ties hurt when India conducted nuclear tests in 1998, prompting sanctions from Japan.

India-Japan trade totaled $4.35 billion in the year ending March 2004, about one third of New Delhi's two-way trade of more than $13-billion with China.




Today's Top News
Top World News

CPC, KMT leaders vow to end hostility across the Straits




New authority to oversee energy sector




EU launches investigation into textile imports




RMB is not cause of US trade deficit




Pentagon proposes China-US military hotline




Deadly Shanghai fire kills 10, injures 19