German federation bans referee for life
(Agencies)
Updated: 2005-04-30 08:51
The referee who triggered Germany's biggest game-fixing scandal in more than 30 years was banned for life by the German soccer federation Friday.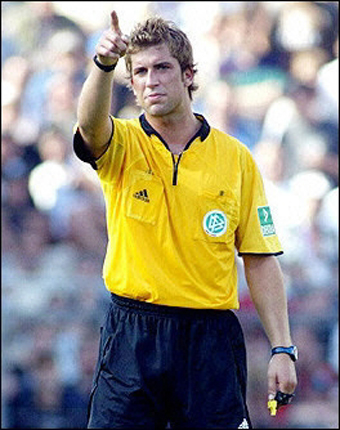 The German Football Federation (DFB) confirmed that referee Robert Hoyzer has been banned for life for match-fixing. [AFP]


Robert Hoyzer admitted in January that he received $87,000 from Croatian gamblers to fix games. He has confessed to manipulating four games and trying to rig three others.

"Mr. Hoyzer caused immeasurable damage to German soccer and its referee system," said Rainer Koch, head of the federation's sports court.

Berlin prosecutors are investigating 25 people, including four referees and 14 players, suspected of fixing at least 10 games, mostly in lower divisions.

Hoyzer hasn't been charged but remains under investigation for fraud. If convicted, he could receive up to 10 years in prison. He has been cooperating with authorities and has implicated others. Three Croatian brothers accused of masterminding the scheme remain in custody.

The federation decided against fining Hoyzer $65,000. But the federation said it may seek punitive damages against Hoyzer to prevent him from earning money from the scandal through movie or book rights.

The federation paid Hamburger SV $2.6 million in compensation for a German Cup defeat to third-division Paderborn, one of the games rigged by Hoyzer. In that game, Hoyzer awarded two dubious penalty kicks for Paderborn and sent off a Hamburg player.

Hamburg appealed the result once the scandal broke, but with the German Cup in the third round by then the game couldn't be replayed.

Hoyzer testified Friday before the federation's sports court in its hearing of referee Torsten Koop, who has been suspended since Feb. 14 because he failed to report a bribery attempt by Hoyzer. Hoyzer implicated another suspended referee, Dominik Marks, of receiving bribes to fix games.

The federation Thursday banned all betting on games by players, coaches, officials and referees while announcing plans to set up its own bookmaking operation, starting in the 2006-07 season.




| | |
| --- | --- |
| | |
| Spurs thrash Nugguts 104-76, tie series at 1-1 | |

| | |
| --- | --- |
| | |
| Pig diving in Ji'nan park | |

| | |
| --- | --- |
| | |
| AC Milan beat Eindhoven 2-0 | |
Today's Top News
Top Sports News

CPC, KMT leaders vow to end hostility across the Straits




New authority to oversee energy sector




EU launches investigation into textile imports




RMB is not cause of US trade deficit




Pentagon proposes China-US military hotline




Deadly Shanghai fire kills 10, injures 19