Putin to help with Palestinian security
(Agencies)
Updated: 2005-04-30 08:28
Russian President Vladimir Putin promised Friday to provide the new Palestinian leaders with helicopters and other equipment and training to help maintain order after Israel's promised withdrawal from the Gaza Strip and parts of the West Bank this summer.
In the first visit to the Palestinian territories by a Kremlin leader, Putin also pledged to help the Palestinians rebuild their infrastructure with an eye toward a viable Palestinian state in the West Bank and Gaza.
And in a nod to Israel, Putin promised any assistance to the Palestinians would be coordinated with both sides, saying "we want this cooperation to be absolutely open."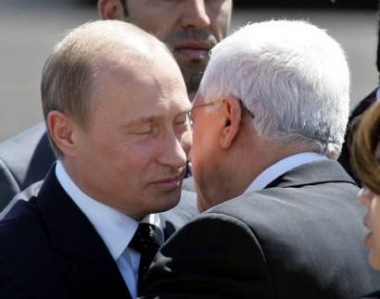 Palestinian President Mahmoud Abbas (R) greets Russian President Vladimir Putin during a welcoming ceremony at the Palestinian Authority headquarters in the West Bank city of Ramallah, April 29, 2005. [Reuters]

The Palestinians and Moscow have a long history of political and cultural cooperation dating to the Cold War, when the Soviet Union backed Arab states and the Palestinians in their fight against the U.S.-backed Israelis. About 15,000 Palestinians, including their leader Mahmoud Abbas, studied in Russia. In recent years, however, Russian ties with Israel have warmed — and Putin said Friday his visit had "turned over a new page" with Israel.

His three-day Mideast trip is seen as an attempt to bolster Russia's international standing and raise its profile in Mideast peacemaking.

"We will provide the Palestinian leadership with technical help, supplies of equipment and training of personnel," Putin said after a two-hour meeting with Abbas, who greeted him warmly at the Palestinian headquarters, known as the muqata.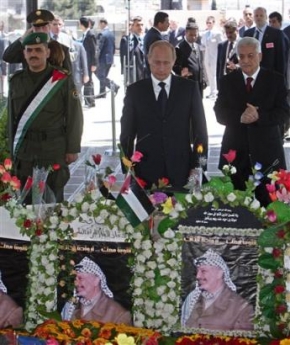 Russian President Vladimir Putin, center, stands alongside Palestinian Authority President Mahmoud Abbas, also known as Abu Mazen, right, as he pays his respects at the grave of late Palestinian leader Yasser Arafat in the Palestinian Authority headquarters, in the West Bank town of Ramallah Friday, April 29, 2005. [AP]

Israel has reacted coldly to a Russian proposal to give the Palestinians 50 armored vehicles, fearing they could fall into the hands of militants. But Putin said the Palestinians will need resources to bring order to their territories and heed Israeli and international calls to rein in militants.

"If we expect chairman Abbas to fight terrorism effectively, he can't do it with slingshots and stones," Putin said.

Palestinian Foreign Minister Nasser Al-Kidwa said Russia would provide the Palestinians with two helicopters, and that talks on supplying armored vehicles would continue.

Khairi al-Oriedi, the Palestinian representative to Moscow, said the two Russian helicopters would be used to transport Abbas. Israel destroyed the Palestinian Authority's presidential helicopters as part of its campaign to limit the movement of the late leader Yasser Arafat.

Putin also said Russia was looking at ways to help rebuild the Palestinian economy and infrastructure, badly damaged in more than four years of fighting with Israel.

Israel plans to pull out of the impoverished Gaza Strip this summer, and Palestinian efforts to maintain order there will be viewed by many as a test case for their handling of a future state.

A day after talks with Israel's prime minister and president in the first visit to the Jewish state by a Kremlin leader, Putin visited Arafat's tomb at the Palestinian compound. He bowed his head, stood silently at attention for a few seconds, bowed again and walked away.

A Palestinian honor guard greeted Putin as a military band played a halting version of Russia's national anthem — and then the Palestinian anthem — as Putin and Abbas stood side by side.

In Jerusalem, Putin condemned anti-Semitism amid calls by his critics to do more to fight it in Russia. He also paid tribute to Holocaust victims by visiting a museum Thursday that is dedicated to the Nazi campaign to exterminate Jews and presenting Israel with a sculpture dealing with the subject.

Putin's trip was aimed in part to boost Russia's role in Mideast peace efforts, but he fell far short of a breakthrough. He found himself juggling between a bid to rekindle warm ties with Egypt and the Palestinians and a desire to cement closer relations with an Israel suspicious of his connection to Arab countries.

Putin arrived in the region promoting a fall Mideast peace conference in Moscow, but after a cool reception from Israel he played down the idea Friday, saying instead he was talking about a "meeting of high-level experts" rather than a summit. Russia is one of the four co-sponsors of the "road map" peace plan, along with the United States, United Nations and the European Union, but the Americans have taken the lead.

During the visit, Putin attempted to convince Israel that the short-range missiles he plans to sell to its foe, Syria, are not a threat, saying they can be used only for defensive purposes. Israel appeared unconvinced.

Putin also said Russia will go ahead with construction of a nuclear power plant in Iran, a grave source of concern to Israel and the United States. But he repeated a warning he issued in Jerusalem a day earlier, saying Tehran must show the world it does not seek nuclear weapons and forgo efforts to acquire uranium-enrichment technology.

"Nuclear weapons proliferation is dangerous in general, and in such an explosive region as the Middle East it is very dangerous. From a military standpoint it is illogical, and from a humanitarian standpoint it is unacceptable," Putin said — a statement apparently aimed both at Iran and Israel, which is widely believed to have nuclear weapons. Israel has never confirmed or denied it has them.




Today's Top News
Top World News

CPC, KMT leaders vow to end hostility across the Straits




New authority to oversee energy sector




EU launches investigation into textile imports




RMB is not cause of US trade deficit




Pentagon proposes China-US military hotline




Deadly Shanghai fire kills 10, injures 19