Insurgent attacks in Baghdad kill 20
(Agencies)
Updated: 2005-04-29 14:49
One day after Iraq's National Assembly approved the country's first democratically elected government, insurgents launched a series of attacks in Iraq on Friday, killing at least 20 Iraqis and wounding more than 60, officials said.
The worst-hit area was a district of Baghdad where four suicide car bombs exploded, hitting Iraqi soldiers and police and Iraqi civilians on a Friday, the Muslim day of worship for most Iraqis.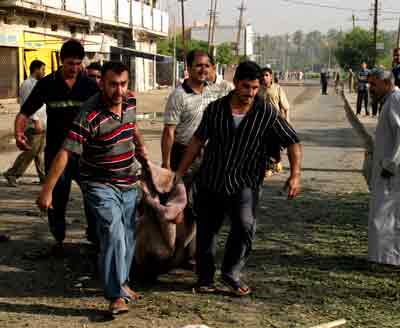 Iraqi men carry a dead body after a suicide bomb attack in the Athamiya district of Baghdad April 29, 2005. Four car bomb attacks targeting Iraqi security forces killed 13 people and wounded 50 others in Baghdad on Friday, police said, piling pressure on Iraq's new government a day after it was formed. [Reuters]

An American soldier also was killed and four were wounded in a roadside bomb attack in Hawija, 150 miles north of Baghdad, on Thursday, the U.S. military said.

On Thursday, parliament approved a new Shiite-dominated Cabinet that excludes the Sunni minority from meaningful positions and could hamper efforts to dampen the deadly insurgency.

Two of the four deputy prime minister's slots remained vacant, however, and five ministries, including the important defense and oil slots, were left in the hands of temporary managers.

Incoming Prime Minister Ibrahim al-Jaafari hailed the new Cabinet as "the first step in building the new Iraq." While the country faces significant hurdles, he said Iraqis who "challenged tyranny" by electing a new parliament in January "will help this government to succeed and will not be intimidated."

However, Sunni leaders, including Deputy President Ghazi al-Yawer, expressed disappointment with the lineup.

"The number of ministries given to the Sunnis is not enough," al-Yawer told reporters. But he said the issue could be resolved soon as Iraq continues its transition to democracy, including electing a new government by year's end.

The partial Cabinet was appointed after three months of political infighting, and U.S. officials were worried that the political vacuum was encouraging insurgents, who have staged a series of dramatic and well-coordinated attacks in recent weeks.

On Friday, the Sunni-led insurgency continued those attacks.

In the Azamiyah section of Baghdad, the first suicide car bomb hit an Iraqi army patrol, the second a police patrol, and the third and fourth ¡ª in quick succession ¡ª separate barricades near the headquarters of the Interior Ministry's local special forces unit, said police chief Brig. Khalid al-Hassan.

Col. Hussein Mutlak said the attacks in Azamiyah killed at least 20 Iraqis, including 15 soldiers and five civilians. At least 65 were injured, of them 30 troops and 35 civilians, he said.

Elsewhere in Baghdad, gunmen opened fire on a police patrol, wounding one policeman, and a 10-year-old child was seriously wounded when a mortar round hit a house there, police said.

In southern Iraq, where Britain's forces are based, a roadside bomb targeting an Iraqi border guard patrol west of Basra killed one soldier and wounded two, said Iraqi Lt. Col. Abdul Hadi Al-Najar.

The primary goal of Iraq's first elected government will be to write a permanent constitution by mid-August. It must be submitted to a referendum no later than Oct. 15. If the constitution is approved, elections for a permanent government must be held by Dec. 15.

Sunni factions had been promised six ministers and one deputy prime minister, but walked away with just four relatively insignificant portfolios ¡ª including tourism.

Shiite leaders rejected al-Jaafari's initial choices for a Sunni deputy prime minister and defense minister because of suspicions they had ties to Saddam's Baath Party, which brutally repressed Shiites and Kurds. Sunni factions had also hoped for other important posts, but lost out to competing factions within al-Jaafari's Shiite-dominated alliance and its Kurdish allies.

U.S. President George W. Bush put a positive spin on Thursday's vote, issuing a statement that the Cabinet "will represent the unity and diversity" of the country as it begins the work of drafting a new constitution, fighting terrorism and ensuring basic services for its citizens.

However, nearly a third of the 275-member National Assembly stayed away from the vote, underscoring the myriad ethnic and religious divisions that have hampered the formation of a government since landmark parliamentary elections on Jan. 30.

The 185 lawmakers assembled behind the blast walls and sandbags of Baghdad's heavily fortified Green Zone voted by a show of hands, approving the list by 180 votes. A bouquet of flowers filled the seat of one absent lawmaker ¡ª Lamia Abed Khadouri al-Sakri, a Shiite Muslim legislator gunned down in her home the previous day.

Al-Jaafari, whose United Iraqi Alliance is the largest bloc in parliament, told reporters the disputed positions would be filled in three to four days.

The new Cabinet held its first meeting Thursday night to discuss the handover between outgoing Prime Minister Ayad Allawi and al-Jaafari, which is also expected within days, lawmakers said.

Allawi's Iraqi List party was not included in the new Cabinet. Many Shiites have long resented the secular Allawi, accusing his outgoing administration of including former Baathists in the government and security forces.

But lawmakers loyal to Allawi said they supported al-Jaafari's government and were ready to take on a new roll in the opposition.

"We believe that Iraq should not be crippled any longer," said Iraqi List lawmaker Hussein al-Sadr. "The country needs a Cabinet."

Al-Jaafari too sounded a conciliatory note.

"The main thing to keep in mind is that no one will be excluded," he said. "Whether in the Cabinet or not, all sides will have the right to participate in the political process."

The approved ministers include 15 Shiite Arabs, seven Kurds, four Sunnis and one Christian. Six of them are women.

Al-Jaafari himself will be acting defense minister, a position that was supposed to go to a Sunni Arab. Kurdish official and former Vice President Rowsch Nouri Shaways will be a deputy prime minister and acting electricity minister.

The human rights portfolios, intended for a Sunni, and industry, destined for a Kurd, are also in the hands of acting ministers.




Today's Top News
Top World News

HISTORIC MOMENT: Hu, Lien meet in Beijing




Pandas could make maiden trip to Taiwan




Pentagon proposes China-US military hotline




WTO fearing escalation of textile trade row




FMs of China and Japan set to mend fences




Foreign companies ignoring labour laws