Baby powder surprises mom with a uesd bandage
(eastday)
Updated: 2005-04-29 08:52
A young mother is demanding an apology and monetary compensation from International Nutrition Co Ltd, which produces Dumex Infant Formula, after she allegedly found a used bandage at the bottom of a tin of the powder.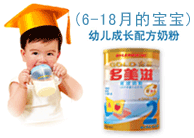 An excerpt of Dumex Infant Formula products which long holds a good reputation among Chinese customers. [baidu]

"I always bought this brand of powder for my 7-month-old baby since it is a famous brand and can often be seen in advertisements," said Zhong Baoyu, the young mother from Anhui Province.

"I found the bandage after almost finishing feeding my baby with this tin of powder."

Zhong said she is worried the dirty powder will cause problems for her baby in the future.

Currently, the baby is in fine health, Zhong said.

"Soon after I began to use this tin of powder, I could smell plaster," Zhong said. "But I never thought a bandage would be found in such a famous and expensive brand."

A nutrition consultant from International Nutrition surnamed Wang said company representatives will visit Zhong if they received a complaint.

All complaints are dealt with by nutrition consultants, according to the company.

"Only after we see the powder can we decide how to deal with the matter."

"But we adopt machine operation and there are no workers in the workshop," Wang said. "Generally speaking, it is impossible to find foreign matters in our powder."

The young mother said she has contacted a saleswoman from the company, who promised to give her a new tin as compensation.

"But I refused," Zhong said. "I am not confident with the brand any more."

Zhong said she had already complained to the Shanghai consumer rights and interests protection commission, which is investigating the incident.

"I hope the company will admit the facts, apologize to me, and as for the compensation, I will listen to the consumer rights and interests protection commission," Zhong said yesterday.




| | |
| --- | --- |
| | |
| Tom Cruise has a new girlfriend | |

| | |
| --- | --- |
| | |
| Photos show Pitt, Jolie on African beach | |

| | |
| --- | --- |
| | |
| Zhang Ziyi on cover of a US weekly | |
Today's Top News
Top Life News

Now, pandas could make maiden trip to Taiwan




Parties pledge to work for Straits peace




Pentagon proposes China-US military hotline




WTO fearing escalation of textile trade row




FMs of China and Japan set to mend fences




Foreign companies ignoring labour laws