Putin offers Mideast peace talks to wary Israel
(Agencies)
Updated: 2005-04-28 17:10
Israel joined the United States on Thursday in rejecting as premature a proposal by visiting Russian President Vladimir Putin to host a Middle East peace conference in Moscow.
Putin's overture, on the first visit to Israel by a Kremlin leader, won immediate backing from the Palestinians. They said such a meeting would help prepare for statehood talks they hope to hold after Israel's planned Gaza pullout this summer.
"I intend to discuss this idea with my other colleagues who are interested in moving the peace process forward in the Middle East," Putin said in Egypt before arriving in Israel.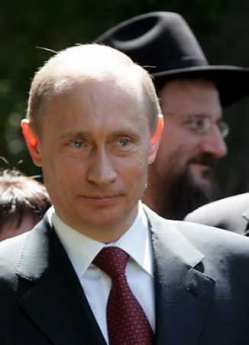 Russia's President Vladimir Putin attends a welcoming ceremony in Jerusalem April 28, 2005.[Reuters]

He said he would raise the offer with Prime Minister Ariel Sharon later in the day. Their meeting was also likely to focus on Israel's opposition to Moscow's help for Iran's nuclear program and anti-aircraft missile sale to Syria.

Israel, believed to have a nuclear arsenal, accuses Iran of trying to build atom bombs. Tehran denies this. Sharon fears the missiles for Syria could end up in the hands of anti-Israeli militants, despite Putin's assurances to the contrary.

A senior Israel official said Israel "strongly opposes this idea of an international conference" at this stage.

Sharon has said peacemaking charted by a Middle East "road map" promoted by the United States, Russia, the European Union and the United Nations would be on hold until the Palestinians began dismantling militant groups under the plan's first phase.

"In the second stage of the road map, there is an international conference. But we are not there yet -- we are far from it," the Israeli official said.

WASHINGTON SAYS MOSCOW CONFERENCE IDEA PREMATURE

Washington, which has taken the leading role in the "Quartet" of road map sponsors, said on Wednesday that Putin's idea was premature.

"We believe there will be an appropriate time for an international conference, but we are not at that stage now and I don't expect that we will be there by the fall," White House spokesman Scott McClellan said in Washington.

But Palestinian President Mahmoud Abbas, whose election in January to replace the late Yasser Arafat raised hopes for peacemaking after more than four years of violence -- said of the proposal: "We will commit and we hope it will take place."

Putin's proposal appeared to be part of his wider plan to revive Moscow's Cold-War influence in the Middle East -- a status Russia lost after the Soviet collapse.

"Just a short while ago it would have been difficult to imagine that the Russian head of state would come to Israel on a visit," Putin said at a welcoming ceremony hosted by Israeli President Moshe Katsav.

"I would like to stress that we very much appreciate the level of trust between our countries," Putin said.

Russia has often criticized Israel's handling of the Palestinian uprising since 2000. Israel has always made clear it was happy to have its U.S. ally as by far the most important Middle East peace broker.

Moscow restored relations with Israel in 1991, shortly before the Soviet Union collapsed. About a quarter of Israel's 6.7 million people are of Russian origin.

In a symbolic gesture to the Jewish state, Putin made an midnight visit on Wednesday to Jerusalem's Western Wall, a sacred site of Jewish prayer.

Putin was due to travel to the West Bank city of Ramallah on Friday for talks with Abbas.




Today's Top News
Top World News

CPC, KMT reportedly to end hostilities formally




Bush taken to bunker after radar blip




China creates office to safeguard energy




ICBC says to sell 10% stake, eyes listing




China: 90% support needed for any UN reform




Legislature: New HK chief to serve 2 years