CPC, KMT reportedly to end hostilities formally
(chinadaily.com.cn)
Updated: 2005-04-28 12:13
The Communist Party of China (CPC) and the Kuomintang (KMT) Party, whose leader Lian Chan has just arrived in Beijing today in a historial visit, are reportedly to end decades of hostilities at a meeting between their leaders on Friday, Reuters reported.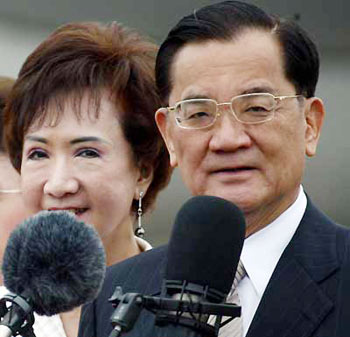 Visiting Chairman of the Kuomintang (KMT) Party of China Lien Chan delivers a speech upon his arrival at the Beijing Capital International Airport Thursday April 28, 2005. Lien said it is the "common aspiration" of the people from both sides of the Taiwan Straits to build a peaceful and win-win future.[newsphoto]
Lien,69, chairman of the KMT, or Nationalist Party, arrived at the Beijing Capital International Airport Thursday morning for what he has called a "journey of peace".
"It is a historical mission for all of us to shoulder and represents the irresistible trend of public opinions to build a peaceful and win-win future through reconciliation and dialogue," Lien said in his brief speech at the airport.
"As you all know, I myself and my delegation will exchange views with General Secretary Hu Jintao and other leaders on major issues concerning peace and economic, trade and cultural exchangesacross the Straits," he said.
The KMT ruled all of China until it was ousted from power by the CPC led by Mao Zedong and fled across the Taiwan Strait after the 1945-49 civil war.
Lien's entourage were greeted at the Beijing airport to a warm welcome, with dozens of school children raising flowers and chanting "welcome Chairman Lien Chan". Lien said at the airport that he will try to learn more about Beijing during his scheduled two-day stay, thanked swarms of well-wishers by saying it is his belief that the mainland and Taiwan should cooperate and strive for future co-prosperity.
According to a Reuters report, Lien and CPC general secretary Hu Jintao may jointly announce a formal end to decades of animosity after their landmark meeting, quoting Chinese political analysts.
"The civil war between the KMT and CPC has ended in reality but not formally," said Shi Yinhong, a professor of international relations at Peking University.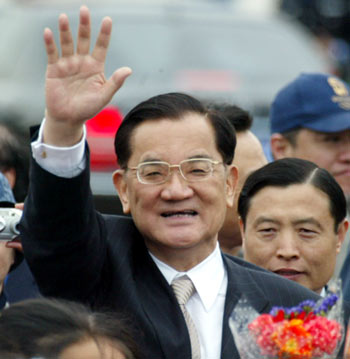 Visiting Chairman of the Kuomintang (KMT) Party of China Lien Chan waves to well-wishers upon his arrival at the Beijing International Airport Thursday April 28, 2005.[newsphoto]
The civil war ended in 1949 with the defeated KMT fleeing to Taiwan after having ruled China for decades after the Qing dynasty was toppled in 1911.
No armistice or peace agreement was ever signed.
Analysts said Hu and Lien may jointly announce an end to the civil war and boost exchanges, a move Shi described as "tantamount to a peace agreement between the two parties."
"But there is still tension with the government in power in Taiwan, which is for independence," he said.
BLANKET COVERAGE
Beijing is playing host to a KMT chairman for the first time in 56 years in a bid to prevent Taiwan leader Chen Shuibian, who is from the pro-independence Democratic Progressive Party, from pushing for formal secession from China. The island still formally calls itself the Republic of China, which was founded in 1912 by Dr. Sun Yat-sen, the first chairman of KMT. Sun died in 1925 in Beijing.
Both mainland and Taiwan media have given Lien's visit blanket coverage. TV networks broadcast his arrival live and newspapers splashed the story on front pages.
Analysts said Lien's visit and another by James Soong, the chairman of Taiwan's second biggest opposition party, from May 5-12, would prod Chen to mend fences with Beijing.
Meanwhile, Taiwan's mass circulation United Daily News said Hu also would offer Taiwan gifts in each of his meetings with Lien and Soong in the form of a Closer Economic Partnership Arrangement (CEPA), which would eliminate import taxes on Taiwan farm goods and other products.
Chinese analysts say there could be more goodwill gestures in the pipeline from Beijing.
In Washington, a White House spokesman said the United States was watching Lien's visit.
"We welcome dialogue between Beijing and Taiwan, major figures in Taiwan, because we believe diplomacy is the only way to resolve the cross-Strait issue," Scott McClellan said.
Improved relations between Taiwan and the Chinese mainland would be good news for the United States, which could be drawn into war to defend Taiwan if a war breaks out across the Straits.
"From an American perspective, anything that reduces the chances of conflict is significant and welcome," says Kenneth Lieberthal, who was Asian affairs director in the Clinton administration's National Security Council.
Today's Top News
Top China News

CPC, KMT reportedly to end hostilities formally




Bush taken to bunker after radar blip




China: 90% support needed for any UN reform




Legislature: New HK chief to serve 2 years




Millionaire Yao Ming named model worker




14 agreements signed in Manila