Philippines, China sign US$1.62b deals
(Agencies)
Updated: 2005-04-28 08:48
China extended loans and investments worth a combined US$1.62 billion to the Philippines during a state visit by Chinese President Hu Jintao, Filipino officials said.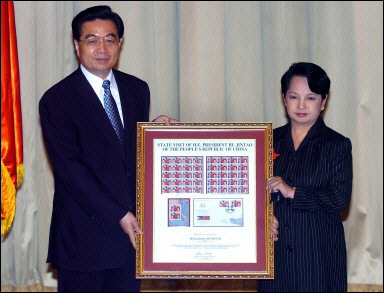 Chinese President Hu Jintao (L) and his Philippine counterpart Gloria Arroyo present the first edition of stamps commemorating the 30th anniversary of diplomatic relations between the two countries after the signing ceremony of agreements at the Malacanang presidential palace in Manila. Hu and Arroyo witnessed the signing of 14 business agreements worth 1.62 billion dollars in loans and investments. [AFP]
Hu and his Filipino counterpart Gloria Arroyo witnessed the signing of 14 business agreements worth 1.62 billion dollars in loans and investments, 10 of them involving government-to government deals.
They included a 950 million dollar investment by Jinchuan/Shanghai Baosteel Co. and China Development Bank to re-develop a nickel mining company in the Philippines.
The largest loan of 500 million dollars will be used to extend a rail system to light industrial centers north of Manila.
Chinese Huawei also signed an agreement to provide 27 million dollars in equipment to Philippine telecommunications company, Digitel, a presidential palace statement said.
China National Offshore Oil Co. also signed a framework agreement for as much as 10 million dollars in prospective investment in oil and gas exploration off the coast of the western Philippine island of Palawan.
Philippine Foreign Secretary Alberto Romulo and Chinese Foreign Minister Li Zhaoxing also signed an agreement to open a Chinese consulate in the northern Philippine city of Laoag.
The two countries signed various accords to encourage Chinese investment in Philippine infrastructure and cooperation in maritime affairs.
Other projected economic benefits include "boosting tropical fruit exports to China, facilitation of commercial investments in electric power, energy and construction, and protective measure for domestic rice industry," a statement said.
Philippine Finance Secretary Cesar Purisima said other investments, such as a pharmaceutical manufacturing concern and a glass factory, to be set up in the northern Philippines light industrial zone, are due to push through but have not yet been signed.
Purisima said that with expanding relations, Sino-Philippines trade will likely rise to 30 billion dollars by 2010 from the current level of about 10 billion dollars a year.
Hu arrived on Tuesday for a three day visit which also marks the 30th anniversary of Sino-Philippine diplomatic relations. He is also scheduled to address the Philippine Congress later Wednesday.
Today's Top News
Top China News

Lien Chan vows to follow in Sun's footsteps




Bush taken to bunker after radar blip




Legislature: New HK chief to serve 2 years




Standards may reduce pollutants by 60%




14 agreements signed in Manila




WB: China's economy to grow by 8.3%