Millionaire Yao Ming named model worker
(Agencies)
Updated: 2005-04-28 08:16
NBA giant Yao Ming was named as a "model worker" in his native China, an annual award given ahead of the May Day festivities.
Yao's nomination as a "model and advanced worker" was approved by the State Council, China's cabinet, an official at Shanghai worker's union told Xinhua state news agency.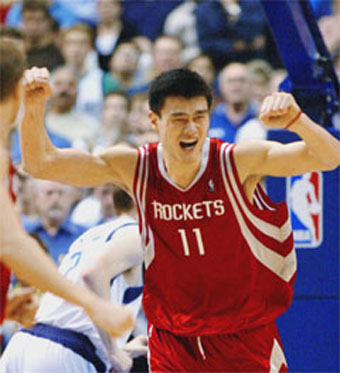 Houston Rockets center Yao Ming (11) of China celebrates after dunking the ball against the Dallas Mavericks in the final minutes. Yao was named a model worker in China. [AP]

The official ceremony to reveal this year's 2,900 model workers is expected to take place at the Great Hall of the People in central Beijing on Saturday.

It was the first time that a multi-millionaire professional athlete like Yao has been given the award that has usually been reserved for selfless workers who devote themselves to their work and Marxist principles.

His nomination has caused some controversy in China where annual disposable income of urban residents is just 8,500 yuan (US$1,025), while annual per capita cash income of rural citizens is only 2,622 yuan.

"I take it as one more honor and encouragement from the society," Zhang Chi, Yao's agent, quoted the Houston Rocket center as saying.

"I used to think that model worker was a title for those ordinary laborers working hard ... but now, apart from them, special 'migrant workers' like me can also be awarded."

Yao, a seven-foot-six inch (2.26 meter) three-time NBA All Star, is in his third year with the Houston Rockets and is averaging over 18 points and eight rebounds a game.

Besides an annual basketball salary of some US$4.5 million, Yao also makes several times that a year in commercial endorsements.

According to Forbes 2004 richest Chinese entertainment list, Yao made some US$14.5 million in 2003.

"The reason why we nominated Yao is that he shows the modern image of the Chinese while being patriotic in international sports arena," the Shanghai work union official told Xinhua.




Today's Top News
Top China News

Lien Chan vows to follow in Sun's footsteps




Bush taken to bunker after radar blip




Legislature: New HK chief to serve 2 years




Standards may reduce pollutants by 60%




14 agreements signed in Manila




WB: China's economy to grow by 8.3%