Bush taken to bunker after radar blip
(Agencies)
Updated: 2005-04-28 07:40
WASHINGTON - US President Bush was hustled from the Oval Office and into an underground shelter on Wednesday after a blip on a radar screen was initially mistaken for an aircraft entering the restricted airspace around the White House, officials said.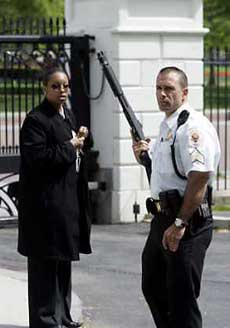 A uniformed Secret Service officer toting a shotgun stands guard inside the northwest gate of the White House during a security alert, April 27, 2005. The alert was raised on fears that an unidentified aircraft had entered restricted space near the White House, prompting President Bush to move to an underground shelter. The alert lasted a few minutes before officials determined it was a false alarm. [Reuters]

The Secret Service determined minutes later that it was a false alarm. A flock of birds or a reflection could have caused the blip. Officials said the investigation was ongoing.

Vice President Dick Cheney also was moved to a secure location as Secret Service agents, some with shotguns drawn, cleared the area in front of the presidential mansion.

White House spokesman Scott McClellan said the president was in the underground bunker for a "very short amount of time." He said he believed it was the first time Bush had been taken to the shelter since the Sept. 11, 2001, attacks.

"There were some precautionary measures that were taken. It was quickly learned that it was a false alarm and that all was clear in a very short amount of time," McClellan said. "Everything is fine."

Officials blamed the incident on a blip that appeared on a radar screen. Helicopters sent up to investigate quickly verified that there was no errant aircraft.

"Out of an abundance of caution, appropriate security measures were taken," said Brian Roehrkasse, a Homeland Security Department spokesman.

On heightened alert after the Sept. 11 airplane attacks on the World Trade Center and the Pentagon, the White House has had several similar false alarms.

In a November 2003 scare, two Air Force F-16 fighters were scrambled to secure the airspace over the White House after a blip on radar, possibly caused by birds rather than a plane, sent scores of White House staff and tourists fleeing the executive mansion.




Today's Top News
Top World News

Lien Chan vows to follow in Sun's footsteps




Legislature: New HK chief to serve 2 years




Standards may reduce pollutants by 60%




Appointment of new health minister approved




14 agreements signed in Manila




WB: China's economy to grow by 8.3%