Lien Chan vows to follow in Sun's footsteps
By Xing Zhigang (China Daily)
Updated: 2005-04-28 05:47
NANJING: Kuomitang (KMT) Chairman Lien Chan paid homage at the mausoleum of party founder Sun Yat-sen on the second day of his mainland trip.
He became the first KMT leader to visit Sun's tomb, situated on Zhongshan Mountain in Nanjing's eastern suburbs, since 1949.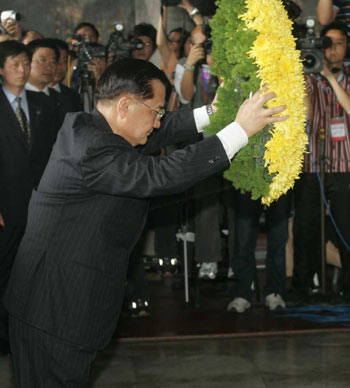 KMT leader Lien Chan pays respect to party founder Dr. Sun Yat-sen during a visit to the mausoleum of the party founder in Nanjing, East China's Jiangsu Province April 27, 2005. [newsphoto]

Yesterday morning, Lien and more than 60 members of the KMT delegation held a solemn memorial ceremony to pay tribute to Sun, who passed away on March 12, 1925 in Beijing and was interred in the mausoleum on June 1, 1929.

Lien laid a wreath on behalf of the KMT party after delegation member Kuo Yen-lu read out a commemorative article eulogizing Sun's achievements.

The current nationalist party leader then wrote four Chinese characters "zhongshan meiling" (beautiful mausoleum of Sun Yat-sen) in the guest book.

During an address following the ceremony, Lien said Sun is respected on both sides of the Straits for his lifelong efforts striving for the rejuvenation and prosperity of the Chinese nation.

Given the severe cross-Straits situation at present, he noted, Sun's deathbed call for peace and hard work is still of great significance today.

"Only through peace and hard work can the Chinese nation have bright prospects," Lien said amid long applause from thousands of spectators.

"We should follow in the footsteps of our revolutionary pioneer (Sun Yat-sen) to join our efforts and strive to grow stronger so that the Chinese people can hold their heads high in the 21st century."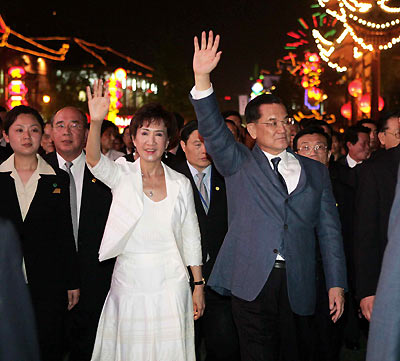 KMT Chairman Lien Chan and wife Lien Fang-Yu wave at citizens during a visit to the Confucius Temple, Nanjing April 27, 2005. [newsphoto]

Lien called on both sides to seize the opportunity to ensure both Taiwan and the Chinese mainland enjoy sustainable economic growth.

Local residents showed great enthusiasm and warmth as thousands gathered at the mausoleum to welcome Lien.

Later, Lien said he "felt greatly moved" by the warm and sincere attitude of Nanjing residents.

Huang Baodong, a 49-year-old businessman, and his daughter prepared a five-metre banner carrying the message "Chairman Lien is welcome to visit the mainland."

Huang told China Daily that he wanted to express respect on behalf of Nanjing's 6 million residents for Lien's decision to make the mainland trip.

"It is really not easy for him to fly to Nanjing from Taiwan despite the short distance," Huang said.

"His visit raises hopes for a peaceful reunification between Taiwan and the mainland."

In the afternoon, Lien and his delegation visited the Presidential Palace, where Sun was inaugurated as Provisional President of the "Republic of China" on January 1, 1912. The palace was used as the office of the Nationalist Government after April 1927.

The 69-year-old KMT leader also toured the Tianfei Palace and the Xiaoling Tomb of the Ming Dynasty (1368-1644), one of the biggest imperial tombs in ancient China.

Last night, Lien attended a Chinese folk music performance. He then had a tour of the Nanjing Confucius Temple (Fuzimiao) and walked along the Qinhuai River.

Lien will fly to Beijing today and hold talks with Hu Jintao, General Secretary of the Central Committee of the Communist Party of China tomorrow.

James Soong, chairman of Taiwan's People First Party (PFP) is scheduled to visit the mainland from May 5 to 12, according to official sources.

Under an arrangement made by the Taiwan Work Office of the Communist Party of China (CPC) Central Committee and the PFP, Soong is expected to visit Xi'an, Nanjing, Shanghai, Changsha and Beijing.

(China Daily 04/28/2005 page1)




Today's Top News
Top China News

Lien Chan vows to follow in Sun's footsteps




Legislature: New HK chief to serve 2 years




Standards may reduce pollutants by 60%




Appointment of new health minister approved




14 agreements signed in Manila




WB: China's economy to grow by 8.3%