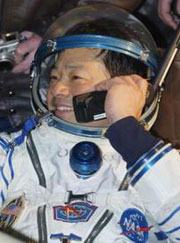 U.S. astronaut Leroy Chiao speaks on a satellite phone in Arkalyk airport in northern Kazakhstan April 25, 2005.
A Russian, an American and an Italian climbed out of a Russian space capsule early Monday after hurtling home to Earth from the international space station, where a new crew is preparing to welcome the first space shuttle flight after a two-year hiatus.
The TMA-5 capsule made a soft upright landing on the steppes of northern Kazakhstan in the early-morning darkness less than 3 1/2 hours after it had undocked from the orbiting outpost. Search-and-rescue helicopters spotted the capsule floating under a parachute toward its designated arrival site about 50 miles north of the Kazakh town of Arkalyk.
Russia's space program has been the only way of getting astronauts to the station since the Columbia disintegrated as it returned to Earth on Feb. 1, 2003, sparking a suspension of shuttle flights. NASA is hoping to renew shuttle flights sometime next month.
Russian helicopters and planes had been on call Monday, along with a U.S. medical team, near Arkalyk, but many of the helicopters had to turn back to Arkalyk without landing at the site because the ground was swampy with melted snow. Engineers followed the capsule's journey through space on a map projected on a large screen at Russian Mission Control in Korolyov, outside Moscow, and communicated with the crew as it sped toward the Earth.
"Again our Russian colleagues have shown how flexible they can be in the face of such daunting weather conditions in the landing zone to safely recover the crew," William Readdy, the U.S. space agency NASA's associate administrator for space operations, told reporters at Mission Control.
After landing, Italian Roberto Vittori, Russian Salizhan Sharipov and American Leroy Chiao were whisked to a mobile hospital for a quick checkup; more thorough examinations were to be conducted after the crew members arrived later Monday at Star City, the cosmonaut training center outside Moscow.
Vittori, a European Space Agency astronaut, had spent eight days on the international space station, while Sharipov and Chiao had been on the orbiting lab since October. Mission Control said Sharipov had reported that the crew were feeling fine.
Remaining behind on the station were Russian cosmonaut Sergei Krikalev and American astronaut John Phillips, whose six-month mission is slated to include welcoming the first U.S. space shuttle flight since the Columbia disaster two years ago.
Russian space officials were relieved to have avoided a repeat of the May 2003 return to Earth by the space station crew, when the Soyuz capsule went 250 miles off course due to a computer error, prompting a frantic search over the steppes.
The TMA-5 undocked at 10:44 p.m. Moscow time on Sunday, after a four-minute delay caused by problems with the hermetic seals on Vittori's spacesuit, Mission Control officials said. The capsule entered the atmosphere about three hours later, and its parachute opened 15 minutes before the scheduled landing time of 2:07 a.m. Monday.
(Agencies)
周一早晨,三名分别来自俄罗斯、美国和意大利的宇航员从一艘俄罗斯宇宙飞船中陆续走出,他们刚刚从国际空间站风驰电掣地飞回地球母亲的怀抱。此时在国际空间站,一批新的太空工作人员正在准备迎接沉寂两年以来的首次太空穿梭机飞行。
在黎明前的黑暗中,"TMA-5"号宇宙飞船直立着成功软着陆哈萨克北部的大草原,此时距它脱离轨道站还不到三个半小时。负责搜索和营救工作的直升机发现这艘宇宙飞船正挂在一个降落伞下,朝着距哈萨克北部小镇阿尔卡累克约50英里处的预定着陆点飘去。
自从2003年2月1日"哥伦比亚"号航天飞机在返回地球途中解体爆炸以来,宇宙飞行的进程出现了延缓,而俄罗斯的太空计划成为将宇航员送入空间站的唯一方式。美国国家宇航局正打算在下个月的某一天让宇宙飞船重新飞入太空。
本周一,俄罗斯的直升机和其他一些飞机早早地就在阿尔卡累克附近整装待命,同样待命的还有一个美国医疗小组,但是由于雪水融化,草地变得又湿又软,很多直升机还没着陆就被迫返回了。在位于莫斯科郊外的科罗廖夫市的俄罗斯宇航控制中心,技术专家们从投影到大屏幕上的地图上追踪着宇宙飞船的太空之旅,并在飞船急速驶向地球的过程中和宇航员交流。
"面对着陆区如此糟糕的天气条件,我们的俄罗斯同事们再次显示出高超的应变能力,成功地实现了全体人员平安降落。"美国国家宇航局太空行动部门的首席助理官威廉·雷迪在控制中心对记者说。
飞船着陆后,意大利宇航员罗伯特·维托里、俄罗斯宇航员沙里波夫和美国华裔宇航员焦立中立即被送往临时医院接受快速体检,并将在周一晚些时候抵达"星城"(位于莫斯科郊外的俄罗斯宇航员训练基地)后接受更全面的体检。
来自欧洲航天局的宇航员维托里在国际空间站呆了八天,沙里波夫和焦立中则从去年10月起就呆在轨道实验室里了。据控制中心消息,沙里波夫报告说全体飞行人员目前状况良好。
俄罗斯宇航员克里卡廖夫和美国宇航员菲利普斯将留在空间站继续工作六个月,他们的任务包括迎接自两年前"哥伦比亚"号航天飞机遇难后美国首次太空飞行任务。
俄罗斯宇航局官员们悬着的心终于落了地,他们终于避免了重复2003年5月"联盟"号飞船从空间站返回地球的那一幕。当时由于计算机出现错误,载着宇航员返回地球的"联盟"号飞船在着陆时偏离预定轨道达250英里,营救队不得不在大草原上展开了疯狂的大搜索。
控制中心的官员说,莫斯科时间周日晚上10点44分,"TMA-5"号宇宙飞船飞离空间站,之前由于维托里的太空服的真空密封层出现了问题,起航行动延迟了4分钟。大约三个多小时后,宇宙飞船进入了大气层,预定着陆时间是周一凌晨两点零七分,飞船在此前15分钟张开了携带的降落伞。

(中国日报网站译)